Halloween is coming and people often prepare many things to welcome this special day. While everyone is still coming up with their Halloween costumes or decorations, take Halloween into your own hands literally. Your nails should be Halloween-ready, and there's no better way to do that than browsing these spooky, glam, and jaw-dropping Halloween nail art ideas.
Below we list top 10 creepy and kooky Halloween nail art ideas that are crafted by professional nail artists as well as nail polish brands. We really want you to nail it with your spellbinding style.
1. Sparkly Skeleton Nails
Sparkly Skeleton Nails
Sparkly Skeleton Nails is one of the best Halloween nail art ideas in this festival. A skeleton manicure gets even scarier when you pop his body parts over dark purple polish. Go with matte black for more of a traditional look. If you want that extra boost of holiday spirit, polish with glow in the dark.
2. Delicate Cobweb Nails
Delicate Cobweb Nails
Thin, white spiderwebs dancing all over your nails is perfect when paired with a witch, warlock, or wizard costume. If you don't fancy committing to them for a few weeks, opt for some stick-on falsies instead.
3. Creepy Crawler Nails
Creepy Crawlers: Holo Halloween Nail Art
Add to your Halloween nail art ideas with creepy crawler nails. Creepy crawlers and cute cobwebs pair up to make this fun, funky nail look. You can add metallics for extra edge.
4. Funky Green Nails
Funky Green Nails Halloween
Two of the most iconic Halloween images in one funky green manicure perfect for parties or for adding to a creepy costume.
5. Thumbs Up Design
Thumbs Up Design
Another nail idea is thumbs up design. At first glance, this looks like random bursts of funky Halloween designs, but when you put your thumb and ring finger together, it totally comes alive.
6. Grinning Ghost Nails
Grinning Ghost Nails
Ghosts are an indispensable part of any Halloween, and rocking the is a great idea to create a proper atmosphere for the party. But what better way to celebrate Halloween than with stylish nail design, right? Who wouldn't allow these adorable ghosts to haunt their fingertips? Just look at their sweet little smiles and pink cheeks.
7. Nail O' Lanterns
Nail O' Lanterns
You want to crazy nail design, aren't you? Nail O' Lanterns is for you. This manicure takes a steady hand and a few advanced techniques, but the results are totally spectacular.
8. Nails That Kill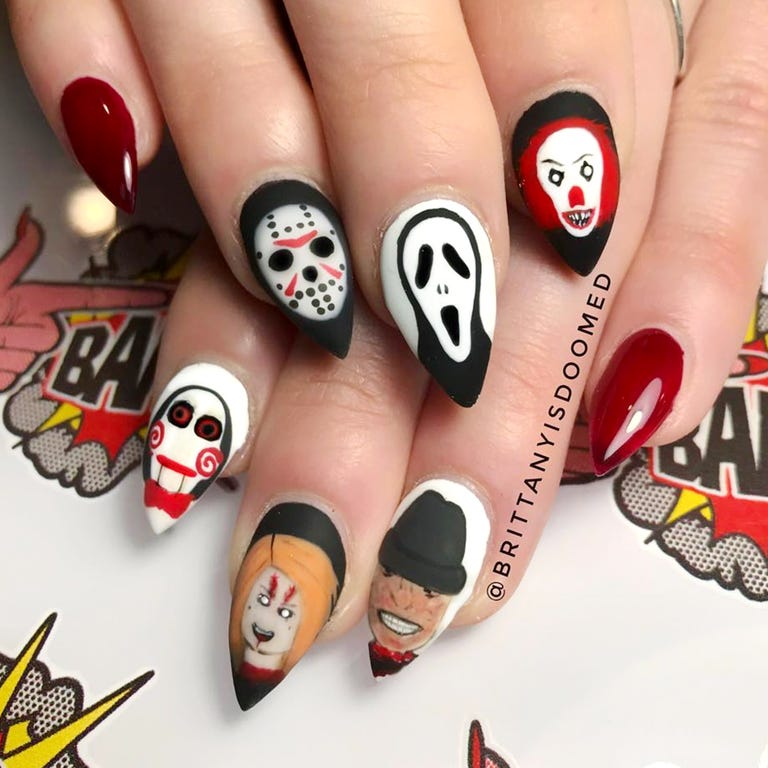 Nails That Kill 
With Nail That Kill, you can dedicate each nail to the famous horror movie villain of your choice. You can leave the pinkies bright red to draw even more attention to the infamous stars.
9. Black Widow Nail
Black Widow Nail
If you are seeking out creepy and kooky Halloween nail art ideas, Black Window Nail is perfect for you. To create a spooky spiderweb nail, start with a shimmery base coat and add white lines. Those detail-oriented folks out there can add rhinestones to make the webs pop.
10. Blood Thirsty Nail
Blood Thirsty Nail
If you're stepping out with the classic vampire costume this Halloween, this blood-red nail effect is best. You'd better start with a foil base and then add a red glass gel for the vile effect.
In conclusion, with the above Halloween nail art ideas, we hope that you can choose the perfect nail design in this Halloween festival.
Read More
Top 10 Coolest Halloween Wigs in 2019
Top 5 Online Stores To Buy Outdoor Halloween Decorations
Nail Art Is Now Hand Art