Halloween is a very busy occasion for people to go shopping for Halloween costumes and decorations for their houses. Besides these familiar needed things, we also care how to have an impressive makeup ideas. Not only is this concern of girls but also attract men's attention.
In this post, we will suggest 5 Halloween makeup styles for men that are very mysterious and equally elegant, impressive to join fascinating Halloween night.
Pennywise
One of the greatest Halloween makeup ideas for men that people has never stopped loving is Pennywise in IT. This style is enough for boys to become extremely scary. On the white face you just need to apply a little more color for the eyes and lips and you have become unique and impressive.
All you need to prepare is white blush, lipstick and eyeshadow. Makeup your eyes with hot colors like orange, red and mix with the same color wigs. Next, you can paint your lips red and thick like Pennywise and you have transformed into a ghostly clown to "dance" this Halloween.
Zoombie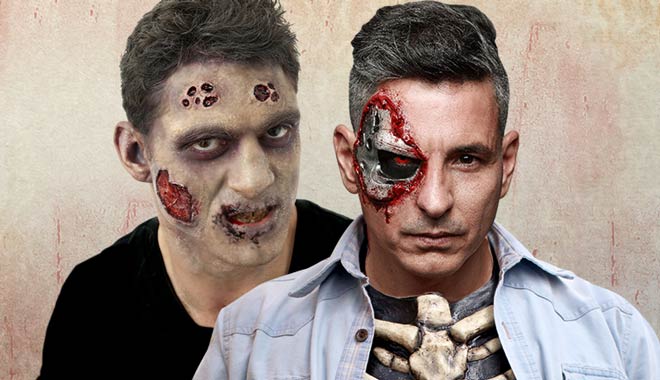 Recently, the zoombie has been very prominent, and surely this will be one of the hottest makeup styles should not be missed in this Halloween. It can be said that zoombie is a horrifying and scary image, as if the face is deformed. However, this way of makeup also requires men lots of time.
You need to make up for your face as same as a zoombie face possible with an asymmetrical makeup. Additionally, you can wear contact lenses to describe the image of a true zoombie best. Along with that, you can use black eyeliner and lipstick in order to create wounds and blood on your face to be more horror.
So, the boy has completely turned into a zoombie that makes other people shocked.
Batman
With the way of dressing up as a batman in Halloween, the men surely look not only very manly but also so attractive. For this makeup style, you just need to simply apply black powder on your eyes and temples to turn it into a mask. After that, you add a little blue eyeshadow to create accents and increase the mystery of the eyes that you can fully confidently participate in Halloween.
This simple makeup style combining a really impressive Halloween costume surely makes you look both mysterious and elegant This is one of the most popular Halloween makeup styles for men.
Vampire
Turning into an extremely attractive male vampire in this Halloween will certainly be unique. With only foundation for the face and some highlight on the eyes and red lips, you will completely become an impressive vampire.
For the eyes, you can use purple and brown to make up and darken towards the outer corner of the eyes so that the eyes look very dark and deep.
With blood red lipstick and black lip liner, you can have gradually perfected yourself into a vampire. You also can use lipstick to create fake blood stains at the corners of the mouth or attach two fake fangs to complete turning yourself into the blood-sucking demon – vampire for your Halloween.
Tiger
With just an eyeliner, you can completely transform into a mighty tiger. Sharp details and lines in the eyes, forehead and mouth are enough to make you look special on Halloween. In this way of Halloween makeup, you should focus on the eyes, create sharpness so that just a glance can also scare others.
Hopefully, with the above suggestions on the makeup styles, the men can have an unique Halloween style to attend Halloween. And don't forget choose a great Halloween costume that is suitable for your makeup style most in order to build the best cosplay.
Read more