Clocky Alarm Clock by Nanda Home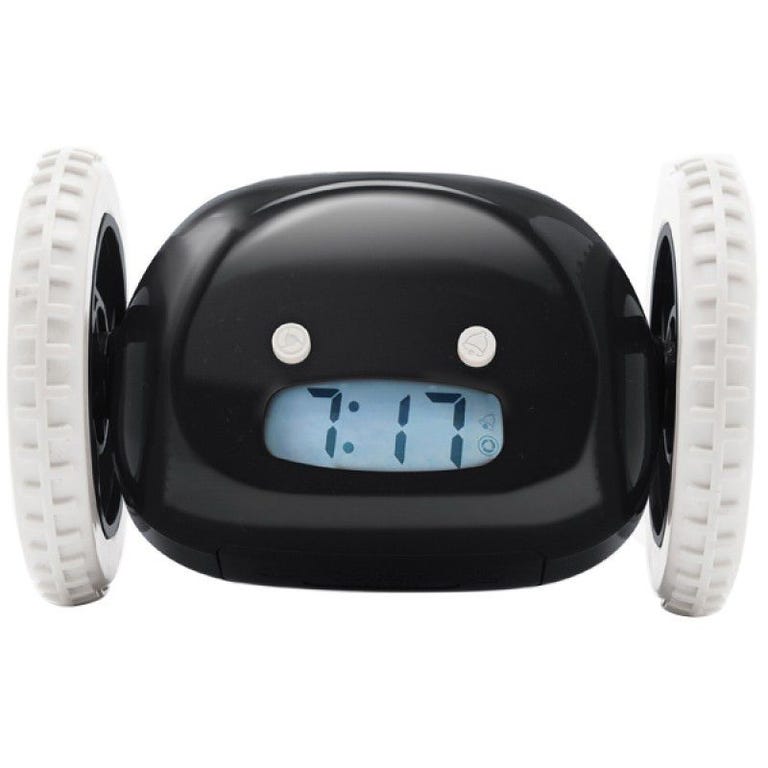 Need a little extra incentive to pry yourself out of bed? You'll have plenty of it with this no-nonsense wheeled alarm clock. After the first time you press snooze, this unit automatically starts moving away from you, creating enough distance to literally force you out of bed in order to shut it off for good.
HAMSWAN Digital Alarm Clock
The best part of this pyramid-shaped clock is its up-to-date thermometer that tells you the outdoor temperature, so you know exactly how to dress for the day. This unit flashes up to seven different colors, and the pyramid shape is particularly fun to display on your desk or dresser. It's a reliable option for a tiny price tag!
Philips HF3520 Wake-Up Light With Colored Sunrise Simulation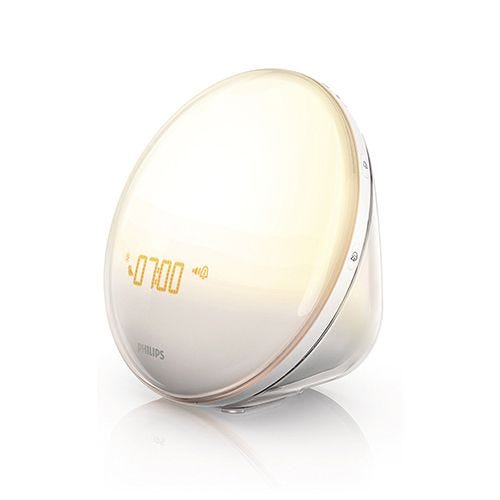 Now you can wake up to the sun without even opening your curtains. This alarm clock uses a gentle glow that simulates a sunrise, waking you gently and naturally, so you definitely won't want to murder it when it starts going off. Choose from five different calming sounds to pair with the gradual light for an all-around sensory experience, or just select the FM radio option (that you'll inevitably snooze once or twice).
Sonic Alert Alarm Clock With Bed Shaker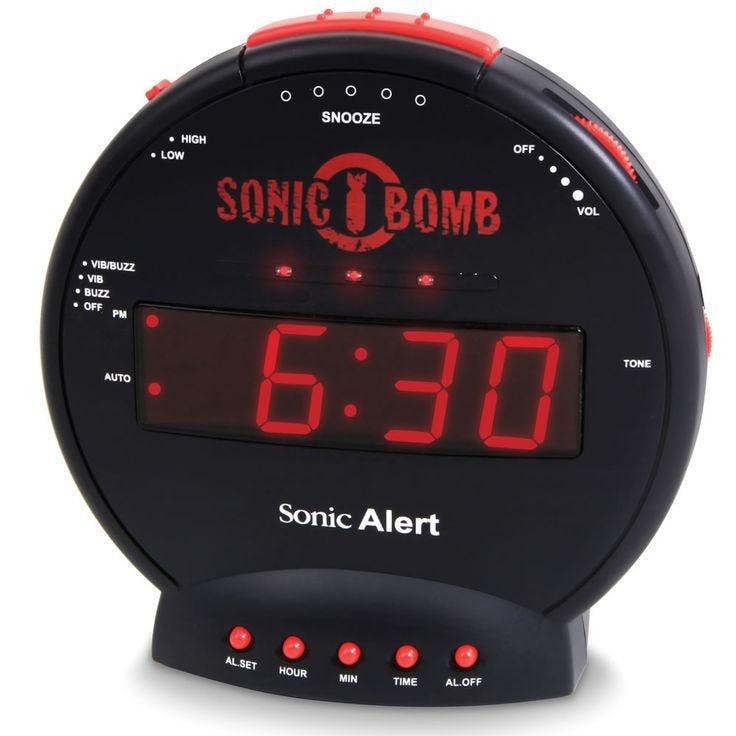 Don't worry, Zeus didn't show up to your home, but you'll certainly feel that way when waking up to this unit's thunderous, 113-decibel buzzing. Fair warning: It's definitely loud, so it's a good pick only if you're a heavy, heavy sleeper. Just in case the noise somehow isn't enough to pry you out of bed, this alarm clock flashes multiple bright red LEDs and comes with a bed shaker that'll really get you going. Trust us, if that sensory overload doesn't get the job done, nothing will.
Electrohome Projection Alarm Clock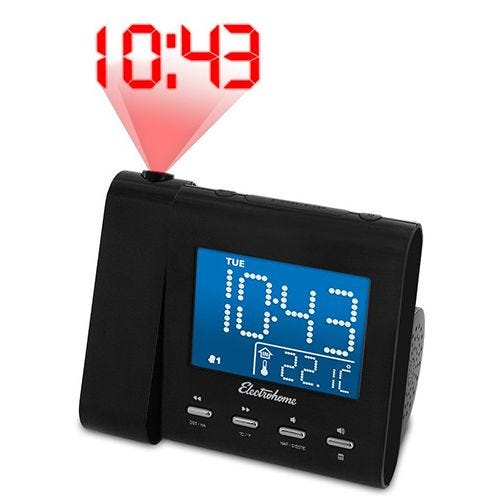 Never squint to see what time it is again, especially when you're waking up 20 times in the middle of the night to, you know, see exactly what time it is. We love the projection feature that displays the time on your wall or ceiling for easy viewing. Plus, it'll even toss up the temperature — so you'll already know what you should wear to work before you even get out of bed.
Mirari OK to Wake! Alarm Clock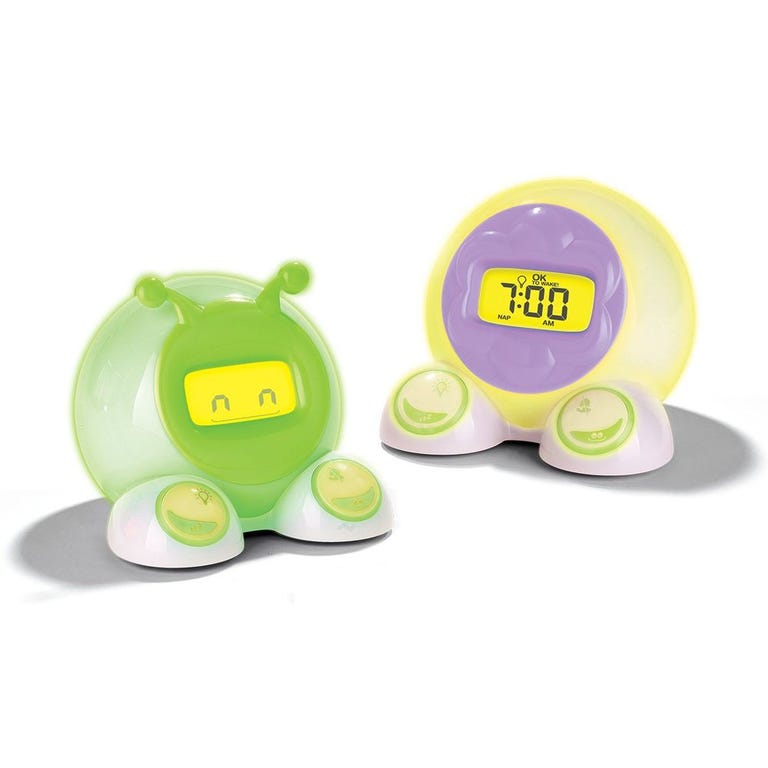 The OK to Wake! alarm clock and nap timer is a useful tool for parents with young kids learning the importance of sleep schedules. When it's OK for a child to get out of bed (aka when the alarm or nap timer goes off) the clock will light up green, providing an easy-to-understand visual cue for little ones to start their day. It even has interchangeable face plates to suit aesthetic preferences.
iHome iBT29BC Bluetooth Color Changing Alarm Clock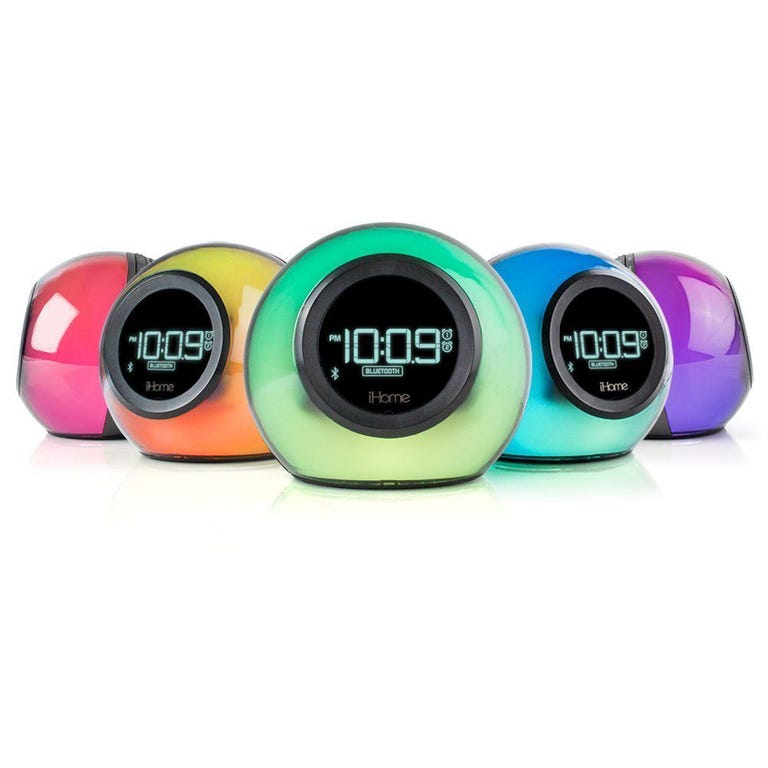 This color-changing option features a radio, built-in wake-up tones, Bluetooth music streaming (so you can wake up to your favorite playlist), and USB-charging capacity to keep your phone juiced. You can preset two alarms, cycle through colors, and snooze, and even use the alarm clock's speakerphone and microphone functions to answer phone calls from paired devices. Basically, this clock does everything except your laundry.
DeRoyal Reminder Rosie Voice Controlled Clock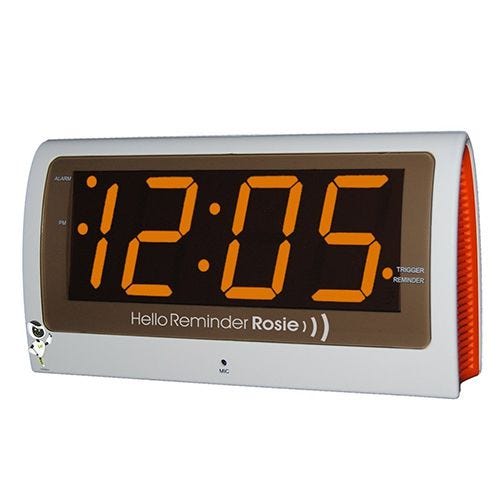 Who doesn't love an alarm clock that verbally lets you know it's time to get up and start your day? Step aside, Siri, because "Reminder Rosie" is where it's at. You can easily record up to 25 different alarm-reminders at 6 seconds each. So why not wake up to a recording of your kids saying, "Good morning, Mom!"? (Or maybe you don't want that).  We love how you can turn off the alarm by quickly pressing a button or just saying out loud, "reminder off."
Instecho Pressure Sensitive Alarm Clock Mat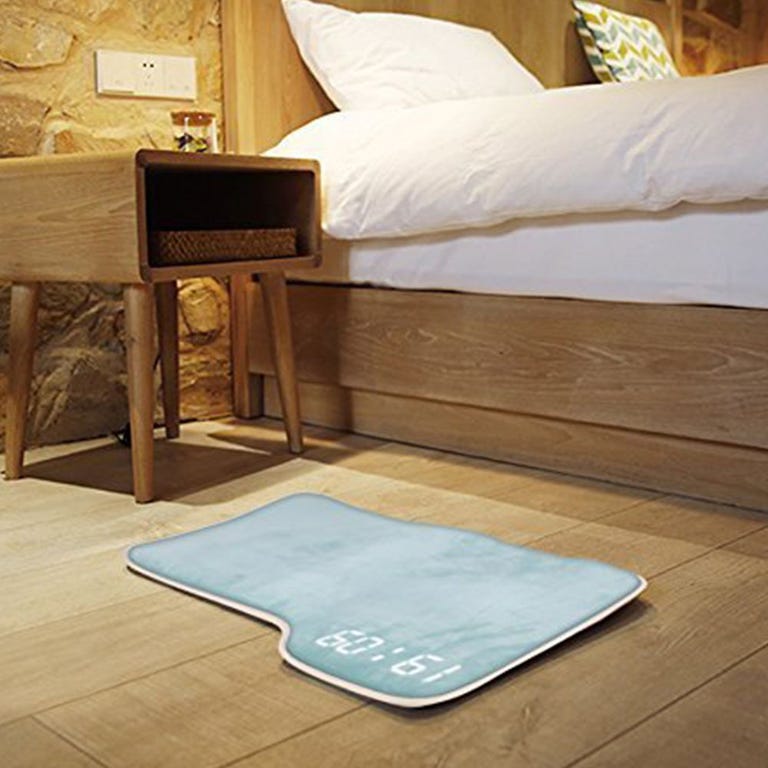 If you literally need to be forced out of bed with no opportunity for an extra snooze, this pressure-sensing alarm clock will definitely do the trick: You have to physically get out of bed and stand on it for a full five seconds before it'll turn off.
Use the preset alarm, or load it with your favorite song to wake up to so you can listen for a few minutes before standing. The mat connects to your computer with a USB cable for music options, and it's battery-powered, so you won't find yourself tripping on any cords.
Lego Star Wars Figure Clock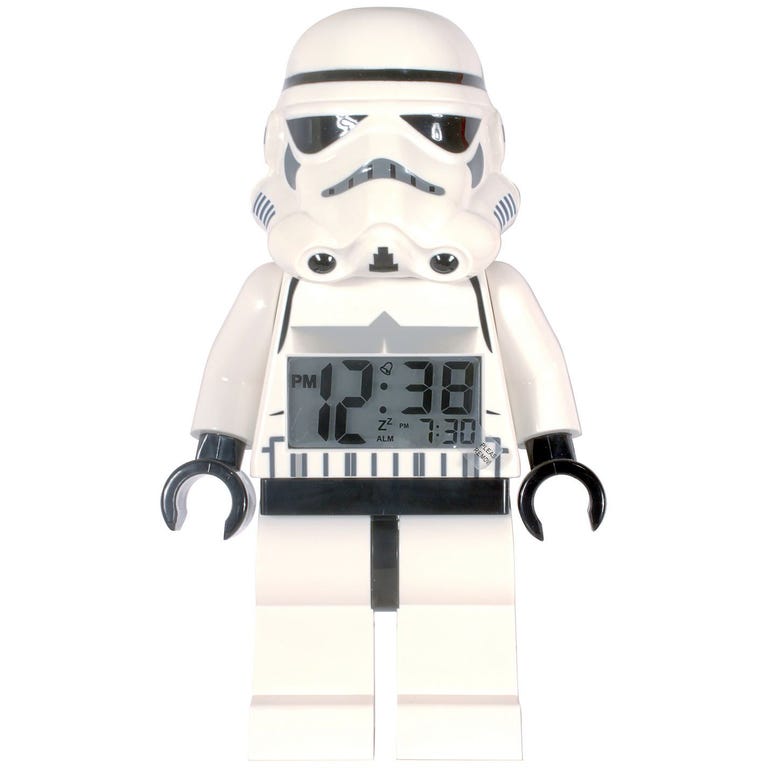 Rise and shine, rebel. This Stormtrooper comes to you, bringing news of a peace proposal with the empire. See those bright numbers displayed brilliantly on its LCD screen? That means it's time to go. Adjustable arms point toward the door, beckoning for you to make haste.
But before you head off to save the galaxy, you might want to turn your Lego alarm clock off first. Plus, if you're a Darth Vader fan, you can get this alarm clock with him, too!
You can see more interesting products in here