Are you planning a trip with your furry best friend? Best Travel Crate for Dogs can provide the necessary security and comfort for both of you. Security during travel is an important feature of dog travel crates as well as additional helpful features for the humans that make life easier.
Don't forget to check out Couponuptp.com to get great deals and discounts on these best travel crates for your beloved pet. Best Travel Crates for Dogs will not only offer them safety and security during your journey, but also give them a safe space at your destination too.
The Factors To Consider When Choosing A Travel Crate
Size:
Make sure the travel crate is large enough for your dog to stand up, stretch out and turn around in. The Kennel must fit your specific breed of dog – measure!
Material:
Look for crates made with durable materials such as steel or aluminum. They should also have rounded edges and non-toxic finishes that are safe for your pet.
Airflow and Ventilation: A travel crate should include an ample amount of air vents to prevent overheating on hot days or suffocation if the air gets too stagnant.
Portability/Weight:
If you plan to take your dog's crate on a plane, make sure it meets airline requirements and is lightweight enough so that you can carry it easily.
Security:
Look for crates with secure locks and handles that won't break or come apart during travel. This will help ensure your pet stays safe, even if the crate is jostled around.
Additional Features:
Some of the top-rated travel crates include additional features such as removable floor pans and padded beds to make your pup more comfortable on their journey.
7 Best Travel Crate for Dogs
Gunner Kennels Dog Crate
Looking for a durable travel crate for your large dog? Look no further than the Gunner Kennels Dog Crate. Constructed from heavy-duty, double-walled molded plastic, this crate is built to withstand the toughest conditions. Plus, it has earned a five-star rating for crash safety from the Center for Pet Safety, making it the safest option for dogs up to 75 pounds.
Available in four different sizes, including small, medium, intermediate, and large, Gunner Kennels also offers a range of kennel accessories to enhance your dog's travel experience. These include a memory foam dog bed, attachable fan, safety straps, weatherizing kit, and security lock.
Features we love
At the top of the list of features that pet owners love about this crate are its strength-rated connection straps, two robust carrying handles, and rubber grip feet, all of which contribute to its impressive crash safety. Additionally, the crate boasts a dual-locking single door that provides structural support and security, with the added option to open from either the left or right side. It's no wonder that online reviewers repeatedly praise this crate as escape-proof. Furthermore, this crate meets airline safety standards, although it's always wise to double-check with your airline for any additional requirements. Last but not least, buyers have nothing but positive things to say about the exceptional customer service provided by the company.
Frisco Plastic Dog Travel Crate
This is our affordable choice for a dog travel crate, the Frisco Plastic Dog Travel Crate is available in large and extra-large sizes. Although it does not have a crash rating, it is a reliable method to keep your dog safe and minimize distractions while on the road. Additionally, it can be used as a carrier for visits to the vet or other excursions. Make sure to use safety straps (which are not included) and secure it with a seat belt in the car.
We adore the following features:
Constructed of sturdy plastic with a front door made of stainless steel wire
Simple to put together and take apart for storage
A great value for the price
Petmate RuffMaxx Dog Travel Crate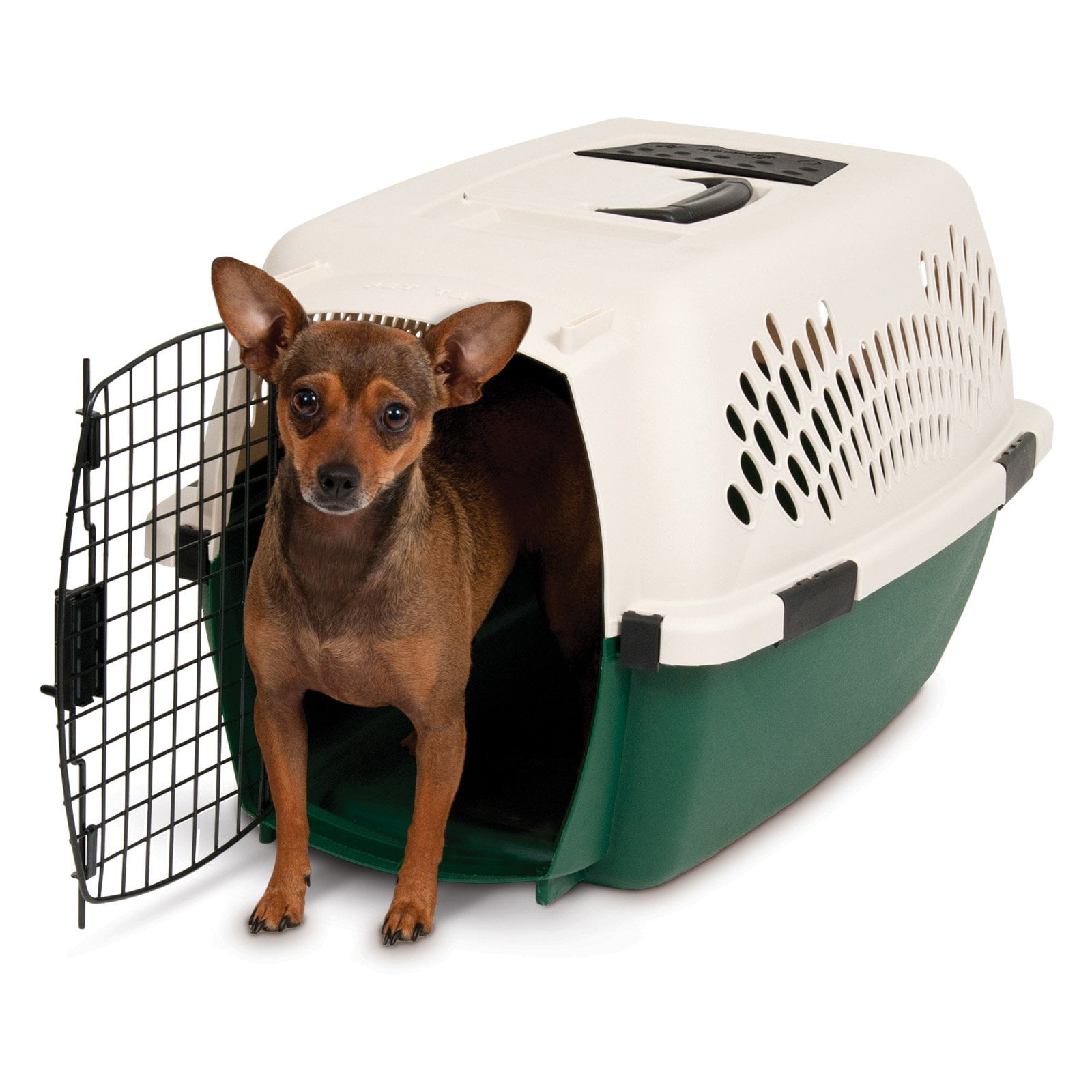 If you're looking for a dog travel crate that can accommodate dogs of any size, consider the Petmate RuffMaxx. Available in sizes ranging from 19 to 40 inches, this crate is both durable and meets airline requirements.
What we particularly appreciate about this crate are its exceptional ventilation and effortless assembly. Additionally, there is a warranty option available for added peace of mind.
Petmate Sky Kennel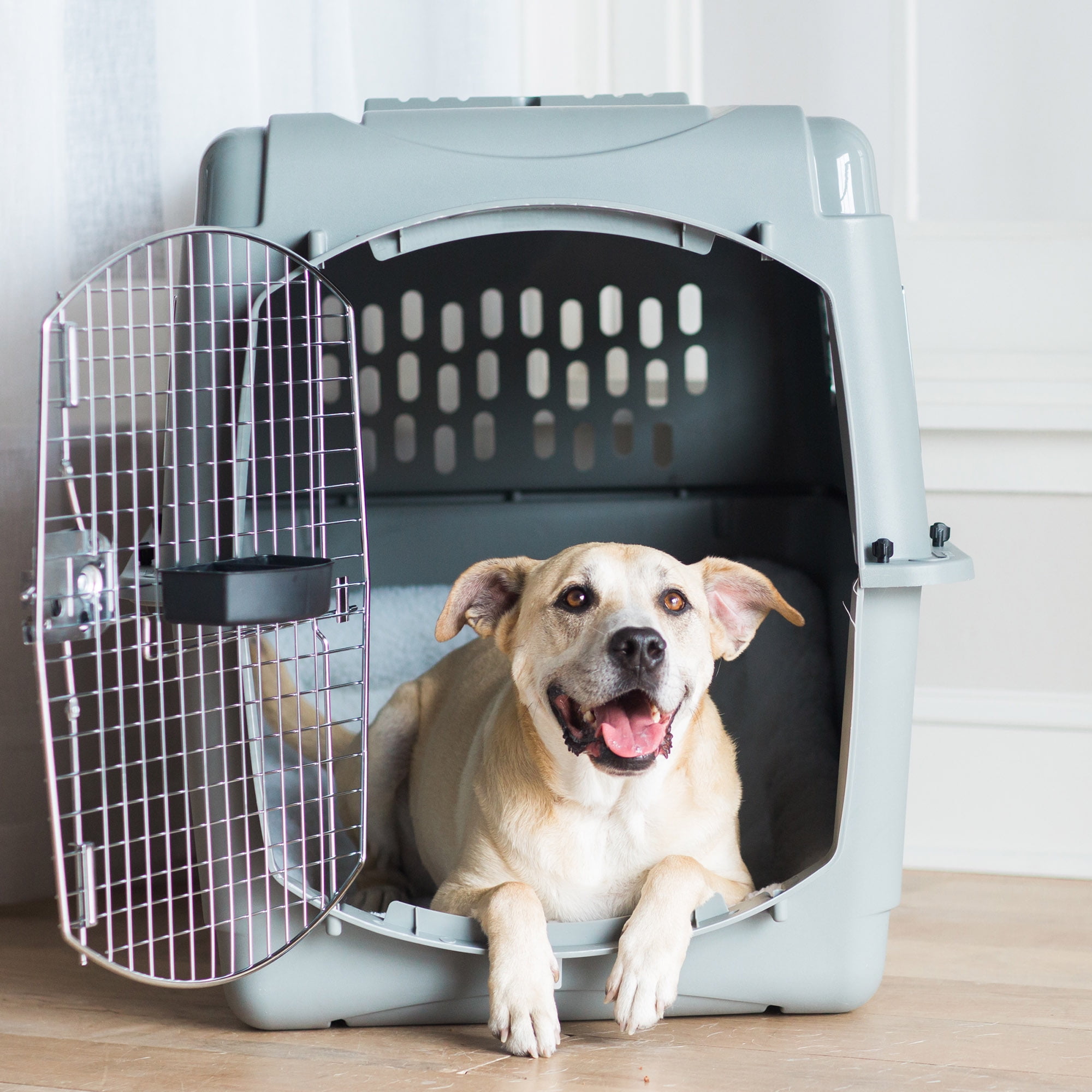 Looking for a dependable kennel for air travel? The Petmate Sky Kennel is an excellent choice from the trusted Petmate brand. This kennel is specifically designed for air travel and boasts highly durable plastic construction, with ventilation on all sides and a secure interlocking front door. Plus, it's environmentally friendly, as it's made from recycled materials.
Some of the features we love about the Petmate Sky Kennel include its high-strength plastic construction that's made in the USA, which is easy to assemble. Additionally, it includes ID labels and food and water cups, making it convenient for pet owners on the go.
4×4 North America MIM Variocage Dog Travel Crate
Looking for a high-performance dog travel crate that can withstand even the toughest conditions? Look no further than the 4×4 North America MIM Variocage. This crate is designed to exceed European crash test standards and has successfully passed front, rear, and roll-over collision tests, making it one serious car crate.
This top-of-the-line crate is loaded with safety features, including a key-lock front door with a one-hand quick-release latch, as well as a rear escape hatch with an external release, perfect for emergencies that require a quick exit from the vehicle.
Some of the features we love about the 4×4 North America MIM Variocage include its adjustable crate length, which can accommodate dogs of various sizes, and its easy-to-clean rubber carpet. The crate also provides excellent ventilation, keeping your pet comfortable throughout the journey.
Safest Dog Crate for Car Backseat for Travel
Diggs Revol Collapsible Crate (Verified Review)
If you're looking for a travel crate that's easy to fold down and store, the Revol from Diggs is an excellent option. Unlike traditional crates that require a bit more effort to lay down the sides before folding, the Revol can be folded down simply by twisting the top lever.
Although the Revol is taller than most traditional crates and has a larger footprint when stowed away, its sturdy construction and ease of use make it a fantastic option for car travel with small dogs.
Sleepypod Mobile Pet Bed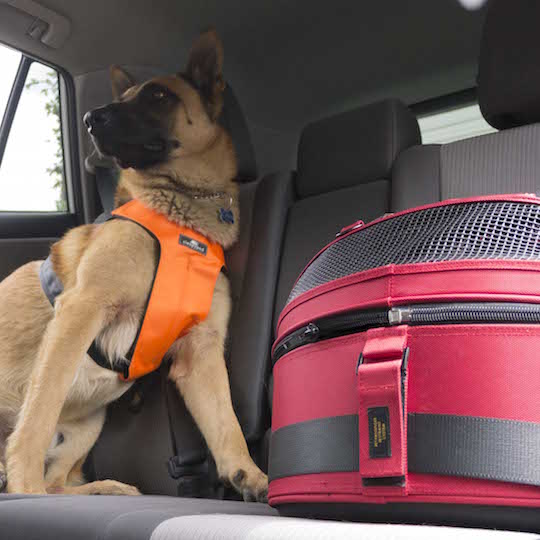 If you're in the market for a versatile travel crate that combines the best features of hard-sided and soft-sided crates, look no further than the Sleepypod Mobile Pet Bed. This popular pet bed has been rigorously tested for strength and safety and has passed the Center for Pet Safety crash testing, making it a top pick for pet owners who prioritize safety.
Designed for dogs weighing up to 15 pounds, the Sleepypod is made from high-quality luggage-grade nylon that's both durable and comfortable. Its tall dome allows your pet to stand and enjoy the ride, while the dome can be zipped off for use as a regular bed at home.
Some of the features we love about the Sleepypod include its velcro positioning points for secure seat belt attachment and its versatility for use at home or on the go. Overall, the Sleepypod is a fantastic choice for pet owners who want a stylish and safe travel crate for their furry friend
FAQs about Best Travel Crate for Dogs
What is the safest dog crate for a car?
The safest dog crate for a car is one that has been crash-tested and certified by independent organizations like the Center for Pet Safety. These crates are designed to withstand the forces of a collision and protect your dog in the event of an accident. Hard-sided crates are generally safer than soft-sided crates, as they provide more protection in a crash.
Should dogs travel in a crate?
Yes, dogs should travel in a crate when riding in a car. Crates provide a safe and secure environment for your dog, preventing them from moving around and potentially causing distractions while you're driving. In the event of an accident, a crate can also protect your dog from injury.
How big should a travel crate be for a dog?
A travel crate for a dog should be big enough for them to stand up, turn around, and lie down comfortably. It's important to measure your dog carefully and choose a crate that fits them well. If the crate is too small, your dog may be uncomfortable or unable to move around properly. If it's too big, they may be jostled around during travel and potentially injured.
What should I put in my dog's crate when traveling?
When traveling with your dog in a crate, you should provide them with a comfortable mat or bed to lie on, as well as a few toys or chew bones to keep them occupied. It's also a good idea to bring along a small water dish and a supply of fresh water, as well as any medications or special foods your dog may need.
Conclusion
All in all, selecting the best travel crate for your pup can seem like a daunting task. With a variety of shapes, sizes and materials, researching the crate that is most suitable for your furry companion requires some time and effort. However, with the right crate you can help ensure your pup's safety during travel. Whether it's an indestructible steel crate or a made-from-scratch wooden box you build upon arrival to a new destination, these options may be uncomfortable in the short term but worth it when considering your pup's overall safety. With careful consideration and research, you can find the perfect travel crate to meet both yours and your pup's needs on your next journey!