Today, Bone conduction glasses have become extremelypopular and have managed to open up its unique market ever since 2016, withZungle being one of the most successful leaders. Both consumer and largetechnology-producing companies have taken much interest in products thatfeature unique and helpful installments that improve a user's experience.However, after 2 years at this time in 2019, when we look back these products,we wonder, are they still worth it? or we have any other better choice?
Feel a bit weird when you first try it because thesound is transmitted through the skull into inner ear rather than the air. Theway you feel your voice comparing to what others hear is a perfect example.Bone conductions are some superiorfeatures than traditional earbuds
With bone conduction headphones your perceptions ofthe outer world will not be blocked because bone conduction allows you to hearwith your ear open to the surroundings. It is also another opportunity for someof the hearing-impaired people. Instead of transplant surgery, you can usethese commercial bone conduction devices on the market, without any risks thatsurgery would possibly bring.
We analyzed and reviewed all bone conduction glassesthere are on the market up until today in order to find the best ones and theworst. With 5 best bone conduction glasses we will help you decide whichglasses to buy and which to avoid (seriously).
Zungle V2 Viper & Lynx- Keeps the sound right where you want it

The most recent model of smart eyewear released byZungle is probably the most well-known bone conduction sunglasses there is onthe market. It's not the earliest, but it's definitely the most successful oneregardless of the product quality.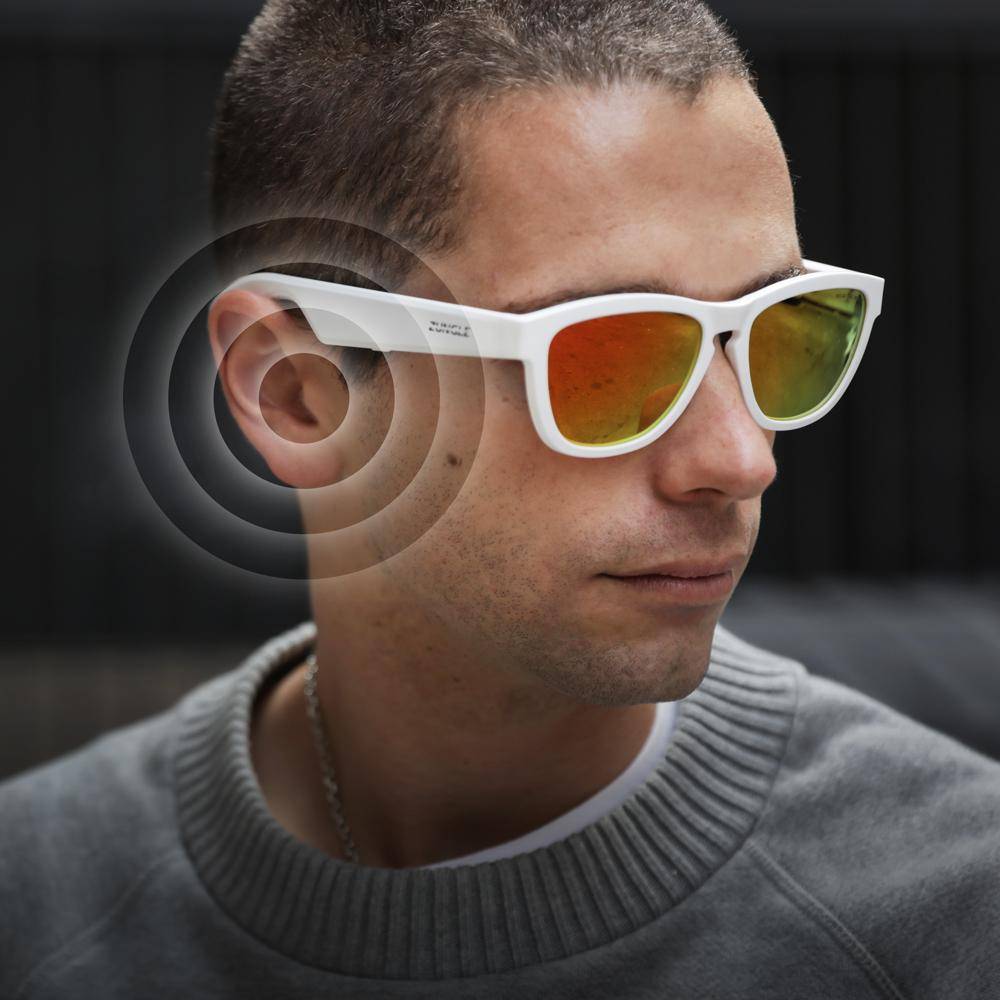 I think many would agree with me if I say, the firstgeneration product of Zungle Zungle Panther was not worth the money. Theproduct was a hot mess. The touchpad kept malfunctioning, the terrible soundquality, and unbearable sound leakage.
Luckily, Zungle has released its second product-Zunggle Viper & Lynx, which have accepted huge popularity both online andoffline. at producing smart audio glasses, we can safely say that theycorrected the wrong they did with their first disastrous release.
Comparing to the previous version, the Bluetooth isupgraded to 5.0 but the battery is reduced from 300mAh to 115mAh.In our test,we find the battery life is about the same as Panther – 4 hours or so dependingon how you use it.
With its battery capacity significantly reduced I'mcurious why the weight is added to 50g, compared with the previous 45g weight.
Apart from these differences, what is loved anddiscussed most is the sleek new design, apparently much more high tech andstylish. With 5g more weight the glasses look compact and simple rather thancumbersome. Now objectively, these glasses aren't a larger-than-life upgradefrom Zungle Panther, but it's definitely an improvement! With these glasses,you can listen to music, answer calls, and be immersed in a world where thesound is taken to the next level.
The upgrade we love most is the sound leakagecontrol,some critics have given these pair of glasses great reviews, it wasnext-to-no sound leakage, and the sound quality was stellar. To beef-up on thequality of sound, developers added a dual-spring bone conduction speakersystem. Above all, this is not a huge upgrade from Panther. But from everyaspect of it, we can see that Zungle is heading for the better.
One thing to note is that whatever their product is like, Zungle is one of the few brands who actually listen to customers and deliver on their promises since their Kickstarter project.
All in all, these smart bone conduction glasses areprobably the best out now.
Pros
Improve Great sound and leakage control
Bluetooth 5.0s
Shorter charging time( less than 1 hour)
Sleek and sophisticated design
Cos
The only downside it is 5g more weight than theprevious model ( 50g)
VOCALSKULL ALIEN 5 SUNGLASSES
Like Zungle, VocalSkull Alien sunglasses are also asecond-generation product of the brand. VocalSkull is a recent brand targetingbone conduction products. According to their official site, they are atech-driven e-commerce company dedicated to bone conduction technology.
Most brands which produce bone conduction productstypically launch the product before a crowd during which there is at leastpreliminary testing for any hiccoughs which may have been missed.
Their bone conduction sunglasses quite differentfrom other bone conduction products,or rather I would put it this way, they aredifferent in a good way, more conservative but more quality.
VocalSkull also comes with an extra pair ofpolarized lenses but it does not have all those fancy features as Vue orDigiOptix. Instead, they focus on bone conduction and what they have atpresent. Sound leakage is the main problem all bone conduction products sufferwhile bone conduction has their way to tackle it. According to theirinformation, they've managed to reduce 70% of the sound leakage
They are IP67 certificated thus common rain, splashor sweat will not be the issue. They claim to have 300 hours of standby timewith one charge and in the actual test this pair of glasses even made it to 15days. It's probably a result of my low-frequency usage but still quiteimpressing.
Special thing about VOCALSKULL ALIEN 5 SUNGLASSES,it allows brands to get an idea as to how consumers react to the product.Theywelcomed with open arms any sort of negativity or possible backlash from thepublic. VocalSkull wanted consumers to hit them hard with whatever flaws theyhad so that they can go back to the drawing board to improve upon their craft.
pros
– Lightweight and comfortable
– 10 days of standby time
– Better sound leakage handling
– Relatively low price ($99) with a higher – soundquality
– IP67 certificated
– 4 – 5 hours of communication time
cons
– Stiff button
AcTek Bone Conduction Sunglasses
Developed by Actek, these AcTek Bone ConductionSunglasses aren't exactly the most popular ones on the market. This brand iswidely recognized and thanks to the company's decision to rebrand from Bj Visonto AcTek added to the poor visibility of its products. Not only popular amongthe smart glasses's community, but also they are providing a reasonably goodproduct to consumers, especially for the price they sell for.
Yes, they have been on Amazon since 2017.
Yet this is the only decent bone conduction glasseswith a sports style (apart from the to-be-released OptiShokz Revvez), suitablefor cycling, running and all sorts of outdoor activities. Totally worth itconsidering its price.
Pros
Perfect style for outdoor activities
Cons
55g is a little heavy
A little bit too tight and uncomfortable
No new versions after 2 years
OSSII SOUND GLASSES
Up next we've got the Ossii Sound Glasses, developedand created by Ossii, a company which brags to have produced a flawless sounddevice.Ossii Glasses feature an aerospace metal tool-free front rim and a3-point locking system that lets you instantly change the visual experiencebased on your surroundings.
We are familiar with modular phones and now herecomes the modular glasses.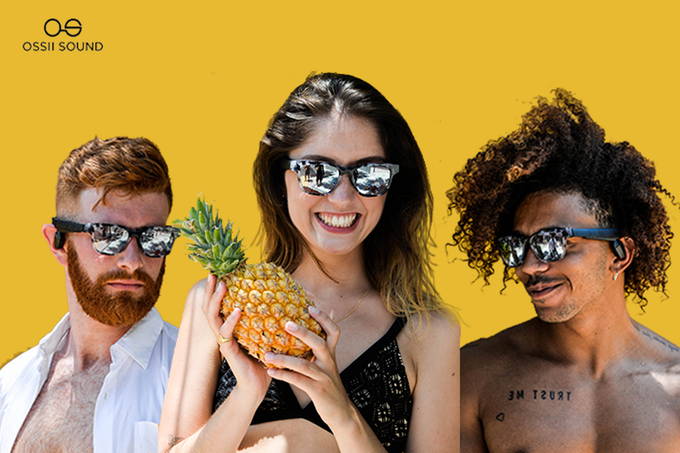 Not only could the lenses be effortlessly swapped,but even the bone conduction speakers are removable as well when you just wantit to be a normal pair of sunglasses. The whole body of the glasses is IPX6certificated so it could easily handle water splash and daily dust.
The only thing I don't like is the frame legs whichhave been deliberately made thicker to fit the slideway for the detachableBluetooth module, though due to the material it's still lightweight. Anyway,Ossii Glasses will make a good pair of modular glasses for different occasions.
Right before the start of 2019 Chinese New Year,Ossii finally began to ship their products to customers.
Pros
Fully adjustable temple tips for different sizes
Instant swap lenses
Modular design, highly customizable
Cons
Weight (49g)
Bose Frames Audio Sunglasses
I don't think this list would be complete if wedidn't give a mention to one of the leading (and most popular, for that matter)companies in the sound industry.This is a pair of Bluetooth audio glasses withminiaturized high-quality Bose speakers.We have it on our list because thosewho need audio sunglasses with high sound quality may find this better thanbone conduction sunglasses.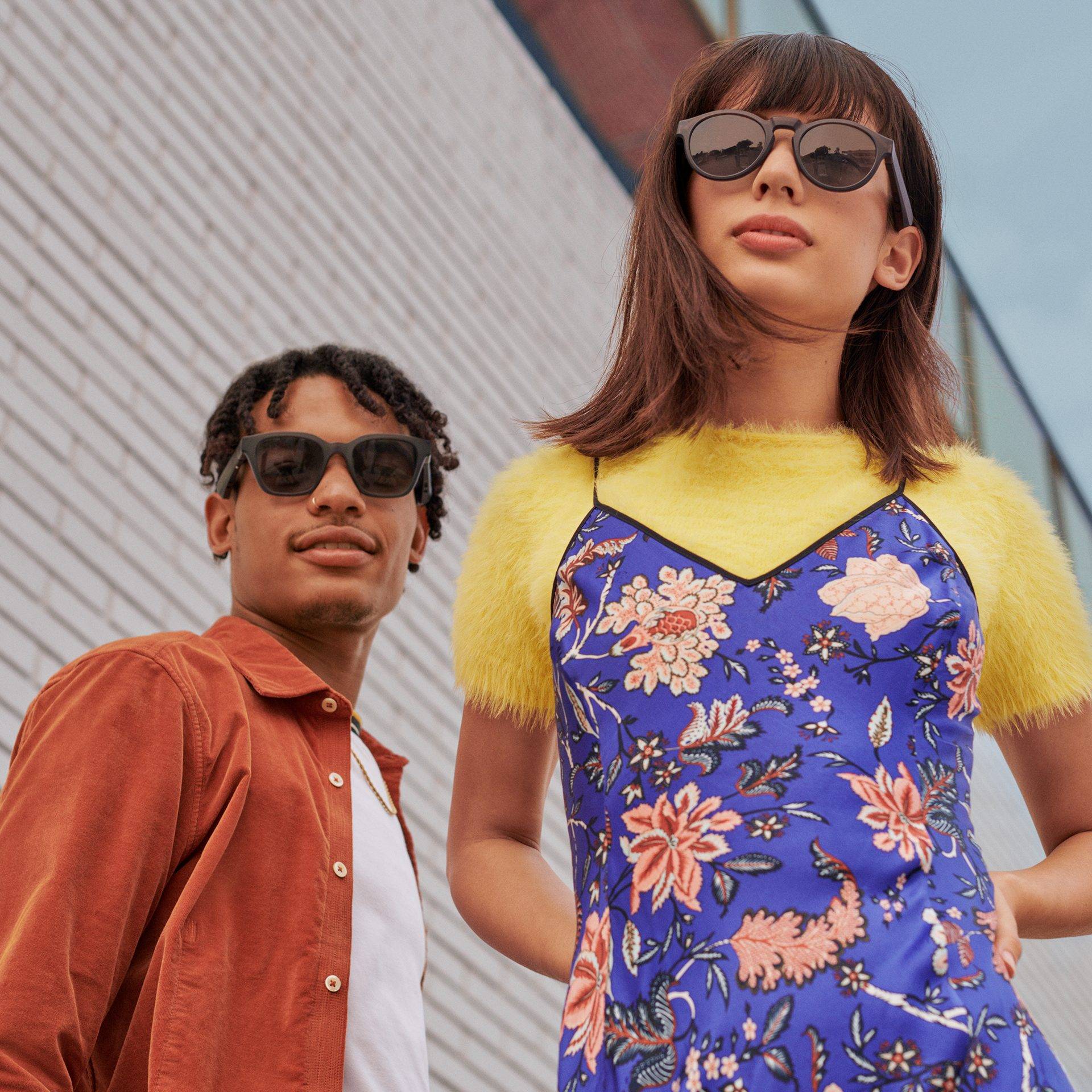 After all, Bose made them. How bad could they be?
Two things we'd like to point out.
Firstly, during our test, we find there's basicallyno bass effect, a real bummer for those who love bass. And the louder theenvironmental noise is, the harder you could hear the music. Zungle Viper andVocalSkull Alien 5, however, due to their bone conduction nature, perform waybetter when it comes to these two scenarios.
But again, every coin has two sides. In terms ofhigh-pitched sound, Bose Frames is definitely better. So it's up to your musictaste.
By the way, since we're already going beyond thelimit of bone conduction, we might as well look further. If you do not careabout sunglasses and have a higher demand for sound quality and still want toenjoy an open-ear experience, take a look at Sony Xperia Ear Duo.
Pros
Decent music quality
Cons
Worse sound leakage problem than bone conduction
Environmental noise effects much-listeningexperience