You're living in the most comfortable space, chesterfield sofas. You want to have something to make your room much more elegant and fancy. Sofas are the option that you should think about! Here below is the list of the best sofas that reviewed by buyers. Let's find out which is best for your house!
Home Decorators Collection Gordon Tufted Chesterfield Sofa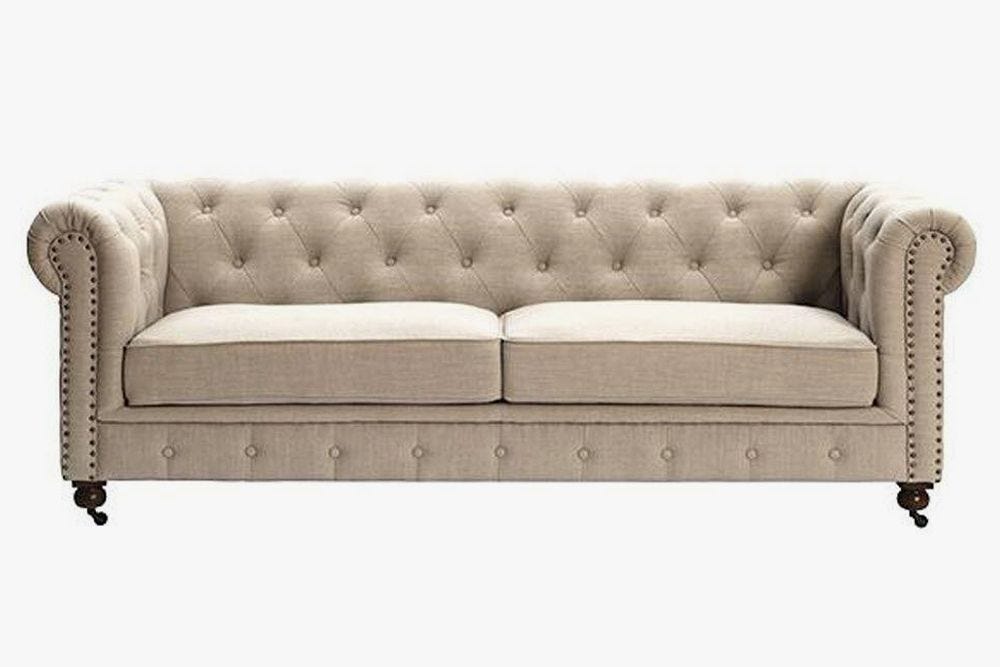 Bottom Line: This heathered-linen sofa brings a timeless touch to the modern living space.
This three-seater chesterfield sofa is an unexpected decor chameleon, thanks to its exceptional construction and crisp tailoring. It showcases nailhead trim on its rolled arms, as well as bun-style couch feet that are outfitted with casters. The sofa weighs just over 110 pounds, but the casters allow for easier position-shifting as needed. Its crosshatched linen upholstery comes in five shades and is touted by reviewers as looking much more expensive than it actually is, and also impressively durable. It is also very easy to assemble, only needing the legs screwed on.
This sofa is part of a larger "Gordon" collection, which also includes a matching ottoman, armchair, and even a sleigh-style bed frame, if you're interested in getting a coordinating set. The shipping from Home Depot ranges from $55-$115 for this item, depending on whether you want it left on your doorstep or brought into your living room.
Read more: 6 SOFA COVERS IN 2019
Martha Stewart Collection Saybridge 92-Inch Velvet Chesterfield Sofa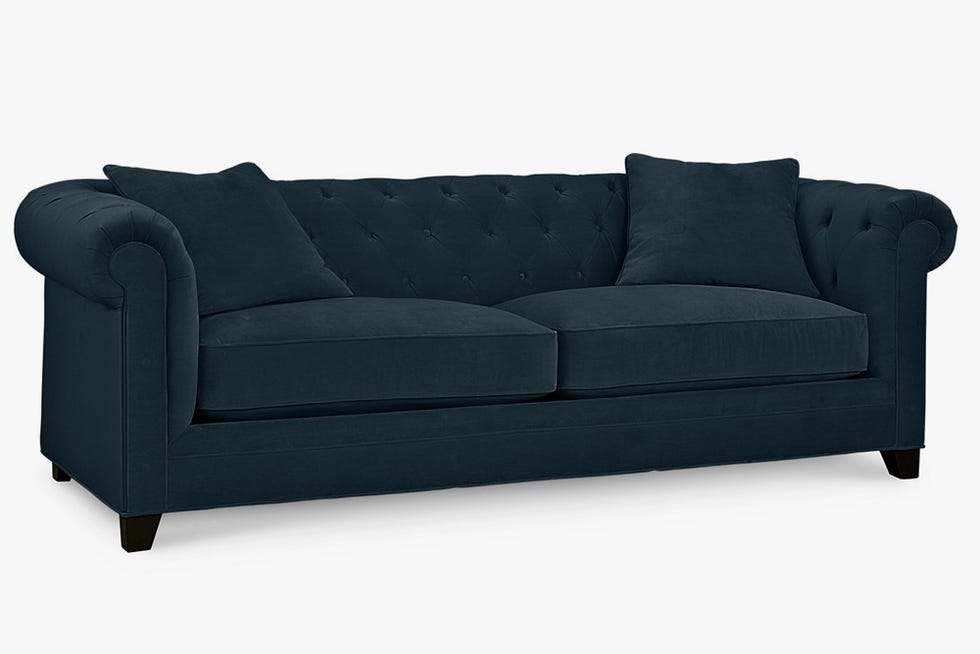 Bottom Line: Crafted for total comfort, this velvet sofa will quickly become your new favorite seat.
This may be one of the more understated chesterfields out there — it eschews nailheads and sculpted couch feet — but it's certainly not lacking in coziness. Users love its plush seat cushions as being very comfortable to lounge on and also like that they're conveniently detachable and reversible. The tufted arms and back are noted as being a little firmer, but still not too hard. This Chesterfield sofa comes in 12 colors, ranging from traditional beige and blue to more bold aqua and red hues. Macy's in-home delivery and assembly cost $99, so try to buy during one of the store's frequent furniture sales to take advantage of extra savings!
Massoud Davidson Tufted Seat Chesterfield Sofa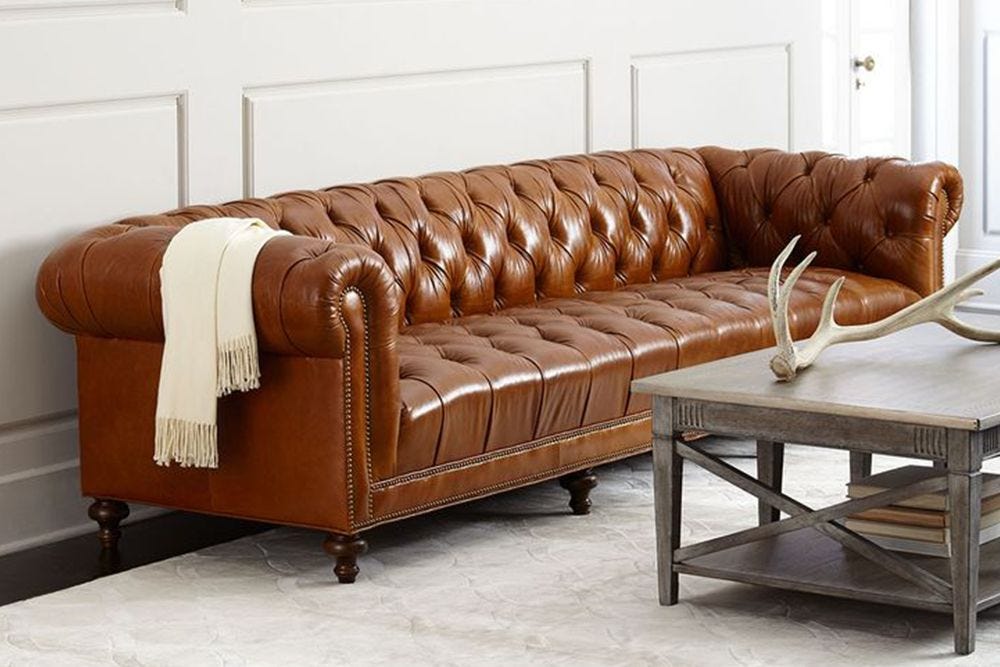 Bottom Line: As with any other luxe leather piece, this chesterfield ages incredibly well.
A pick befitting a home library of Beauty and the Beast proportions, the antiqued-brass nailheads that dot the arms and base of this chesterfield beautifully complement the sheen of the buttery leather upholstery. Available in 6-, 8-, and 10-foot widths, its fixed, button-tufted seat cushions can comfortably fit numerous sitters at once. This sofa also comes in dark gray, deep teal, oxblood red, chocolate, and saddle brown. White-glove shipping and in-home assembly are included in the $150 shipping cost.
Anthropologie Lyre Chesterfield Two-Cushion Sofa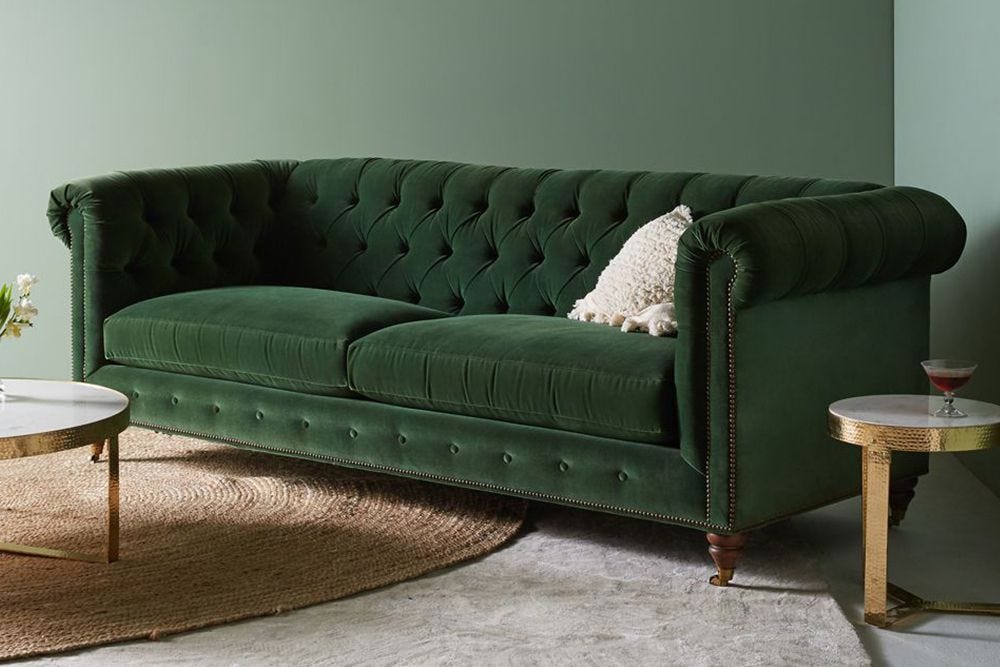 Bottom line: Subtle hues not for you? Go as bold as you want with this chesterfield model.
This model from Anthropologie is the epitome of an updated silhouette. It's a made-to-order piece, in which every component, from the couch width to the material type and color, to the leg and nailhead finish, can be customized. Select on the site from a rainbow of options in velvet, slub velvet, wool, leather, or basketweave and Belgian linen to create your perfect centerpiece seat. The sofa is available in either a 7- or 8-foot-long silhouette, and it features generous button tufting along the back, arms, and front. Users adore its luxe look and sturdy build. The sofa's delivery fee is $149, and it comes with white-glove delivery and assembly service.
Pottery Barn Chesterfield Upholstered Sofa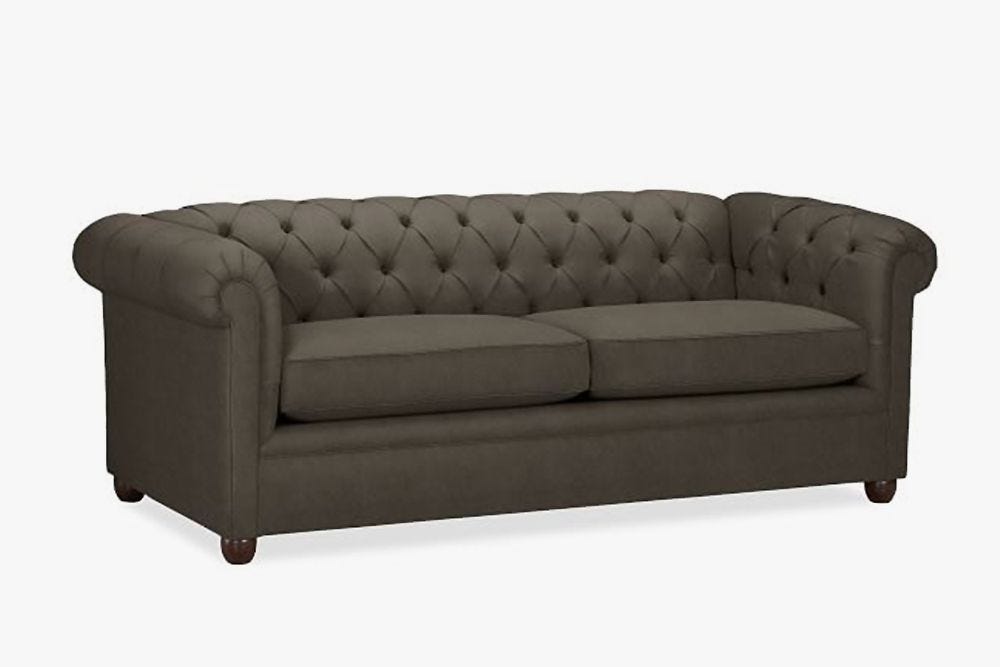 Bottom Line: This "fancy" sofa for the family home doesn't feel totally untouchable in the living room.
This pick, with its low-profile back and button-tufting, makes it a luxurious home base for all living room-centric activities. Choose from a 6-, 7-, or 8-foot-long design, with numerous color-and-material combinations available. The upholstery materials range from twill, velvet, Sunbrella, organic cotton, linen, and even denim — but we especially love that many are available as performance-grade materials, which are easier to clean and more practical for bustling households. (Fabric swatches are available for free!)
Though it arrives quite firm, the foam in the sofa cushions will soften up over time, but their innerspring construction will ensure that they won't sag. Though the sofa's shipping fee is upwards of $100 (exact costs are determined by zip code), Pottery Barn does offer white-glove delivery and in-home assembly.