If you're serious about juicing, a cold press juicer is an absolutely worthwhile kitchen appliance. Before you start a juice cleanse or any sort of liquid cleanseBut there are a couple of important factors to keep in mind before you start looking.
First: When buying a juicer, it's important to understand the difference between a cold press juicer and a centrifugal juicer. Cold press juicers grind fruits and veggies using a slow mastication method without the use of added heat, which results in better preservation of the vitamins and nutrients that naturally exist in fresh produce.
Traditional juicers add heat during the extraction process, which cuts down on the time it takes for juicing, but it can also cut down the nutritional value of your fresh juice.
We've rounded up the best cold press juicers on the market now, plus a few centrifugal options, so you can kick-start your morning the healthiest way possible.
---
Breville Juice Fountain Elite Cold Press Juicer
This sleek juicer from Breville runs on 1,000 watts with two speeds (13K RPM or 6.5K RPM; "RPM" being revolutions per minute), which allows for juicing both hard and soft ingredients. You're basically getting a commercial-grade juicer at a home-juicer price.
This juicer's circular wide-feed tube allows whole fruits and veggies to enter the chamber to be juiced with or without the rind, so you'll end up saving a ton of time on prep. Plus, it has dishwasher-safe parts, so you'll save even more time not having to clean up. But this is a centrifugal juicer versus a cold press juicer, so there will be some heat added during the juicing process.
---
Hurom HZ Slow Cold Press Juicer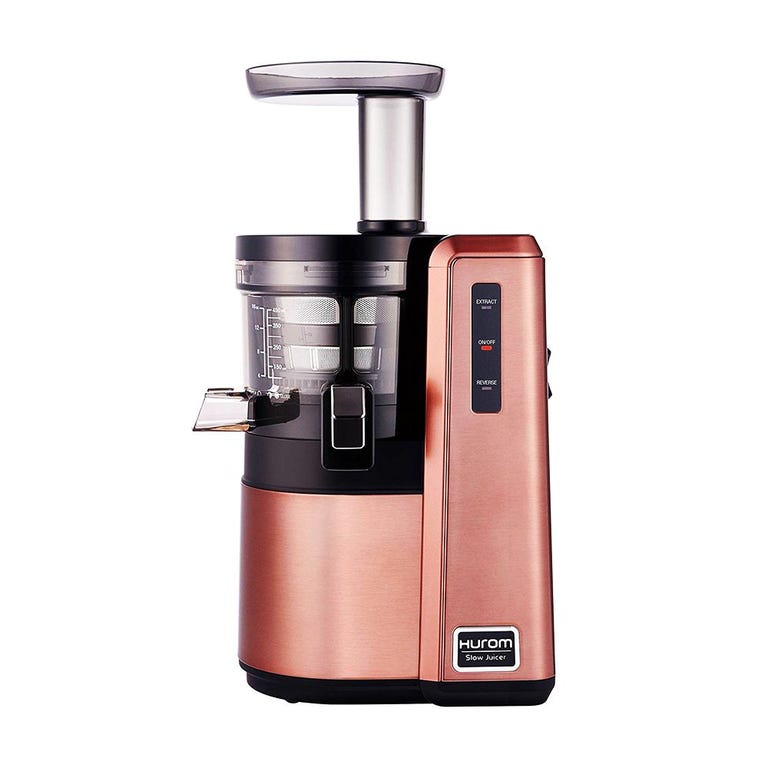 With its stainless steel finish, LED indicators, and sleek metallic casing, the Hurom HZ has a modern, yet elegant look — perfect for any kitchen's aesthetic.
The HZ's Alpha technology features optimized juicing and easier cleaning, and it works wonders on fruits, veggies, leafy greens, nuts, and soybeans to create nutritious cold-pressed juices, smoothies, nut milks, tofu, and more. This HZ slow juicer also has the unique ability to create healthy ice cream and frozen treats straight from the chamber.
With an ultra quiet motor, patented Slow Squeeze Technology that mimics the motion of hand-squeezing juice, a control lever, and a fine and coarse strainer that allows you to control the amount of pulp in your juice, this is one of the most intuitive and user-friendly cold press juicer models on the market.
---
Aicok Cold Press Juicer
A top-seller on Amazon with nearly one thousand positive reviews, this cold press juicer from Aicok is one of the most efficient models on the market. As a slow-masticating juicer, the auger on this unit's motor spins at 80 RPM to preserve the vitamins, enzymes, minerals, and nutrients naturally found in fresh fruit and veggies. The motor on this juicer also runs quietly at 60 decibels, making it a great pick for small households where kitchen noise carries.
Whether you're juicing celery, wheatgrass, apples, or ginger, this slow-masticating cold press juicer will extract delicious, pulp-free, nutrient-dense juice with every use. Each separate part is also dishwasher-friendly for quick cleanup, and this unit comes with a 3-year warranty.
---
Omega Commercial Masticating Cold Press Juicer
Using a low-speed extraction method of 80 revolutions per minute, the slow-masticating motor on this top-rated cold press juicer creates juice without any foaming, clogging, or heat buildup. Users especially love how quiet the motor is, as well as how compact the unit is once broken down into separate parts for storage.
Outside of its primary function as a cold press juicer, this versatile unit can also be used to whip soy milk, grind coffee and spices, and turn nuts into butter. Its slow extraction method also results in incredibly nutrient-dense, fresh, cold-pressed juice.
---
Hurom CJ Citrus Juicer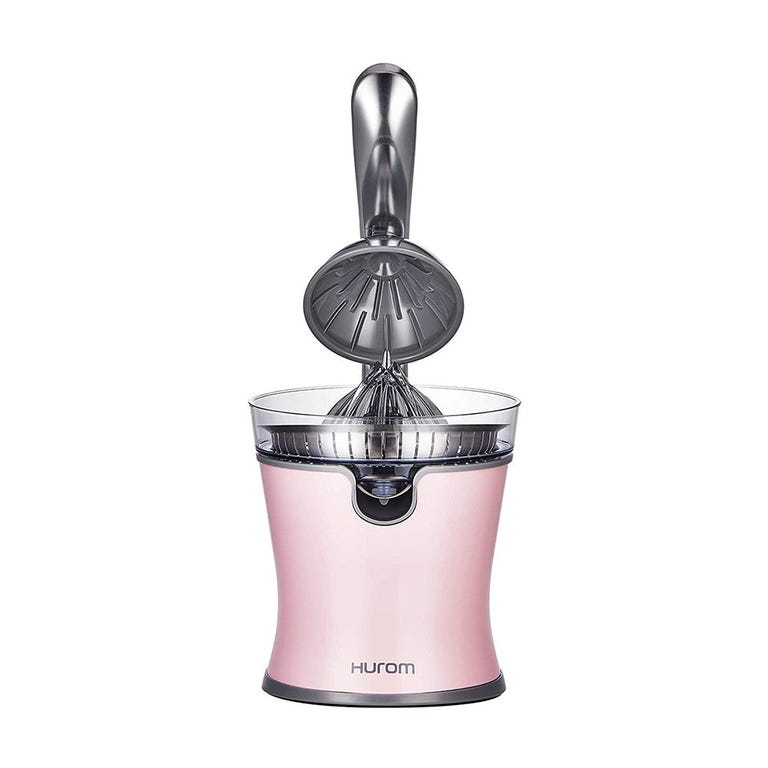 For tasks like juicing large amounts of lemons, limes, or oranges, check out this CJ Citrus Juicer from Hurom. Reviewers love the intuitive and automatic squeezing feature since all you have to do is place your halved fruit flesh-side down on the cone and lower the handle to activate the motor. The whole simple process mimics hand-squeezing citrus, except this juicer, gets the job done in a fraction of the time.
If you love making fresh-squeeze orange juice for breakfast or squeezing your own citrus to make craft cocktails at home, this cold press citrus juicer makes the perfect addition to your kitchen.
---