Wellness CORE Natural Grain Free Original Formula Dry Dog Food (26 pounds)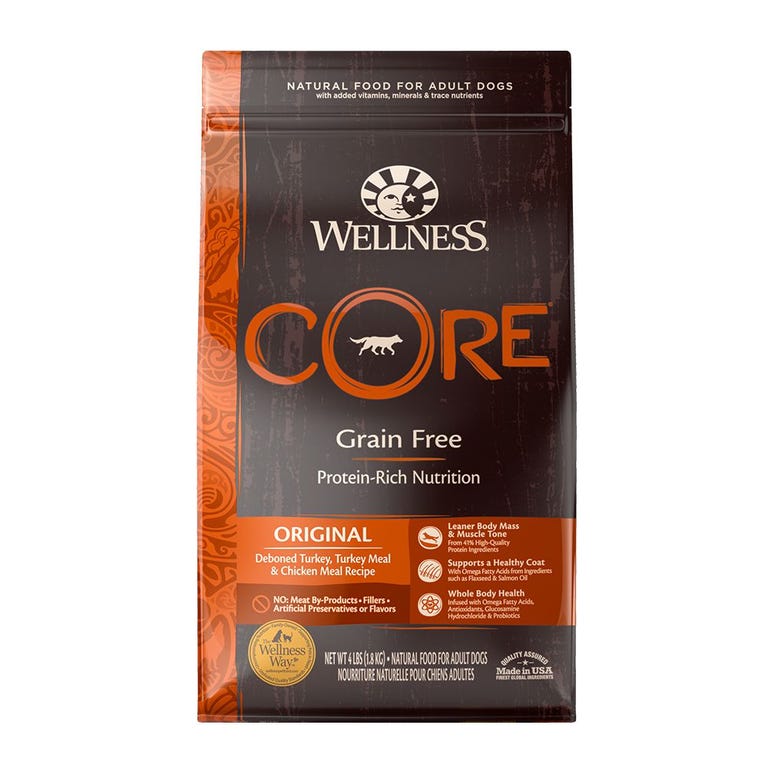 The truth is, there's no single dry dog food brand that's hands-down the best option for all dogs. However, given Wellness Pet Food's rich ingredient list and its lack of preservatives, additives, and fillers, we think it stood out from the rest of the pack.
Dog Food Advisor enthusiastically recommended Wellness Core for its significant meat content and above average protein. The site awarded it with a 5-star rating (the highest possible), and BestReviews also named the food its Best of the Best Pick.
Although it's a tad pricier than other options, we think the extra cost is worth it given the brand's transparency, extensive quality assurance, and safety programs.
Taste of the Wild High Prairie Canine Recipe With Roasted Bison & Venison (30 pounds)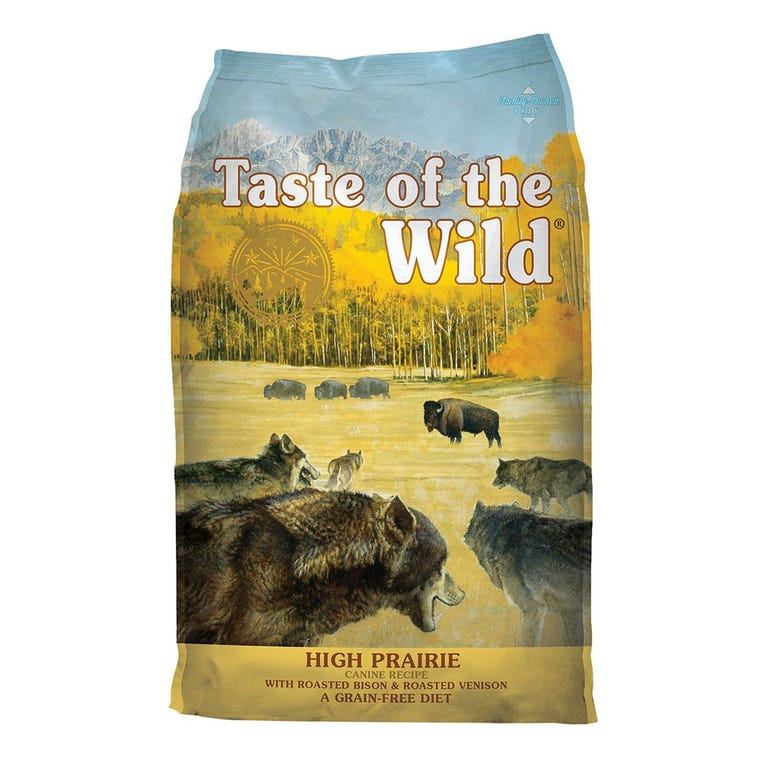 Owning a dog is expensive. According to a study by Rover, the average monthly cost of pet ownership is $153. If you want to save some dough, we recommend Taste of the Wild's numerous dry dog foods. The most popular flavor, the High Prairie recipe — which costs $1.63 per pound at the time of publishing — is made from the roasted meat of pasture-raised bison and venison.
Although 32% of the grain-free formula is protein, it's also packed with vegetables, legumes, and fruits, including sweet potatoes, peas, tomatoes, blueberries, and raspberries. Taste of the Wild is a favorite brand of Top Dog Picks. We're also fans of the salmon-laden Pacific Stream Caninerecipe, as well.
Taste of the Wild High Prairie Puppy Recipe With Roasted Bison & Roasted Venison (15 pounds)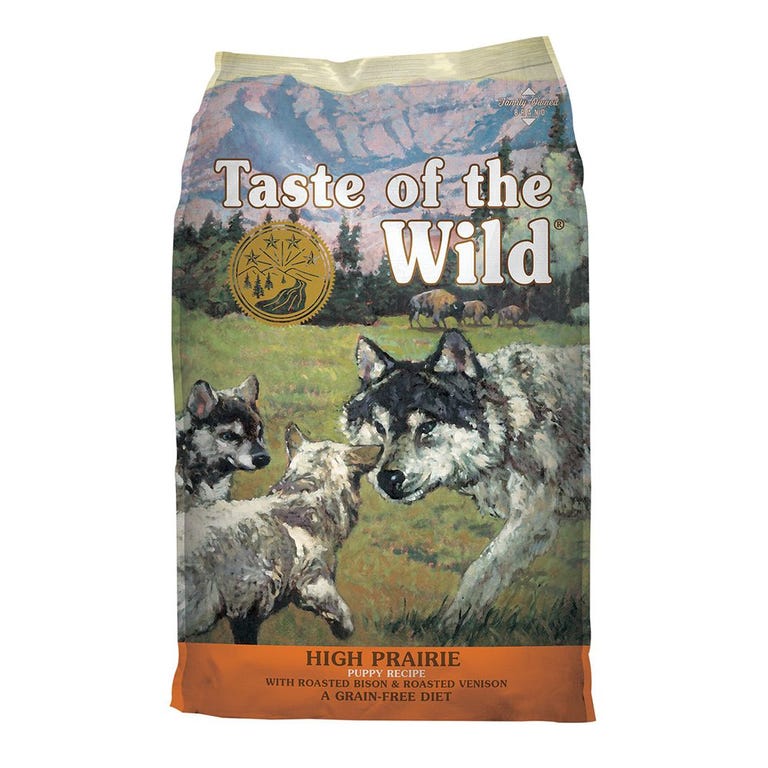 As you'd expect, this Taste of the Wild dry food is similar to the Prairie option we previously mentioned, but its formula is still packed with delicious red meat, and its kibbles are smaller in size, to make it easier for your new dog to chew and swallow.
Business Insider also named this grain-free option its Best for Puppies pick because it's loaded with premium animal proteins, and is free from artificial additives. We think your new puppy will love its delicious flavor, too!
Wellness Complete Health Natural Dry Senior Dog Food (30 pounds)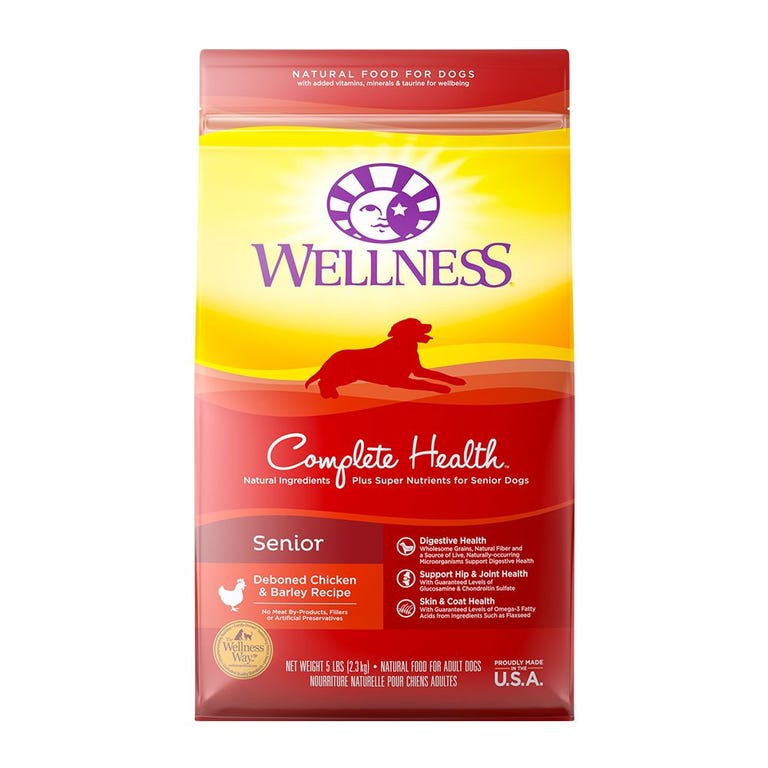 As your dog gets older, you should eventually adjust their diet. Senior dogs are less active and require fewer calories than younger pups. Even though it's difficult to admit, your dog probably has slowed down significantly, too.
Wellness Complete Health dog food features plenty of high-quality proteins, along with joint supporting nutrients to help keep your old fella in good shape. Each recipe is crafted with antioxidants to support strong immune systems to keep your pal healthy and happy.
Blue Buffalo Wilderness High Protein Grain Free Natural Adult Large Breed Dry Dog Food (24 pounds)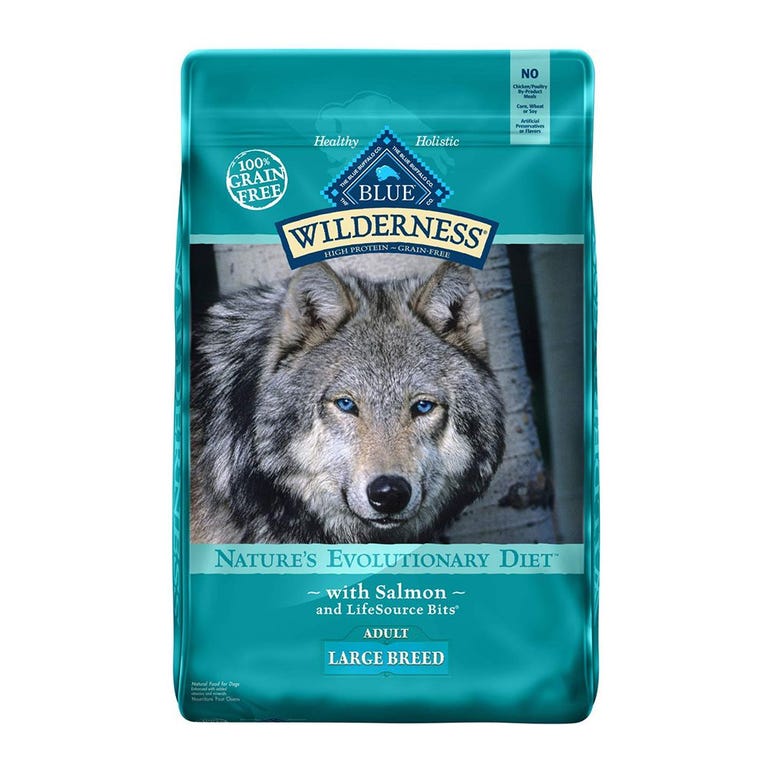 If you're the proud owner of a "pupper" like Rupert "who went from handheld nugget to certified big boy in a matter of months," we think Blue Buffalo's large breed formula is one of the best options for your supersized lap dog. 
Canine Weekly and Dog Food Advisoralso hold it in high regard. That's because it's made with the finest natural ingredients — this particular formula is grain-free with salmon, but there are also recipes with chicken or beef. This dry food is also formulated with glucosamine and chondroitin to help promote joint health.
Merrick Classic Small Breed Dry Dog Food (4 pounds)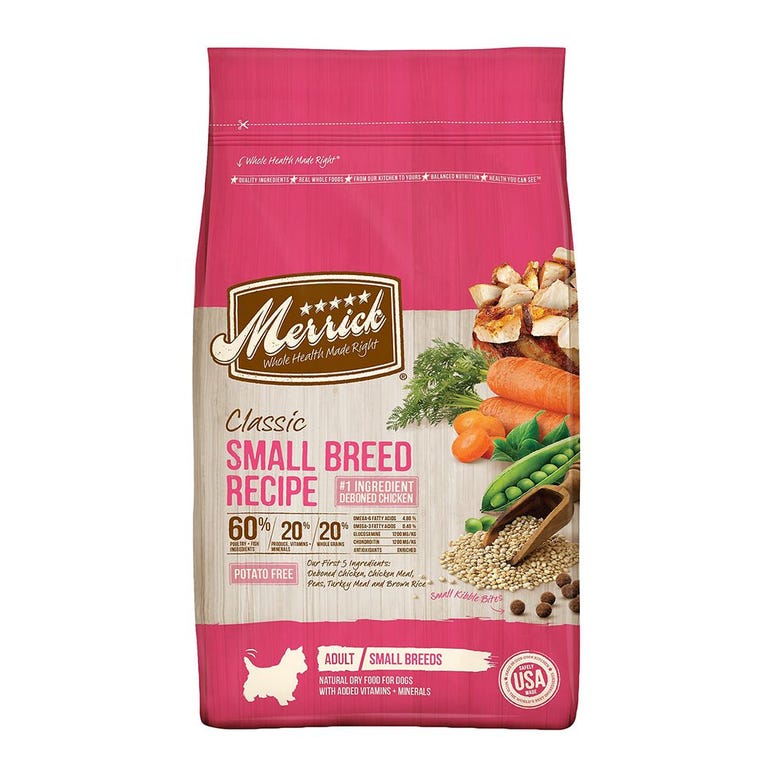 Small breeds have faster metabolisms and smaller stomachs than medium and large breeds, so they tend to burn more calories per pound. You should shop for a dog food that's more nutrient-dense and smaller in size.
We recommend Merrick's Classic Small Breed Recipe because it'll help ensure your little gal or guy meets their energy needs, and it's better than wet food since it'll help prevent plaque buildup on their chompers. This dry food's ingredients include deboned chicken, peas, turkey and chicken meal, and brown rice.
Earthborn Holistic Natural Dry Dog Food for Pet Weight Control (28 pounds)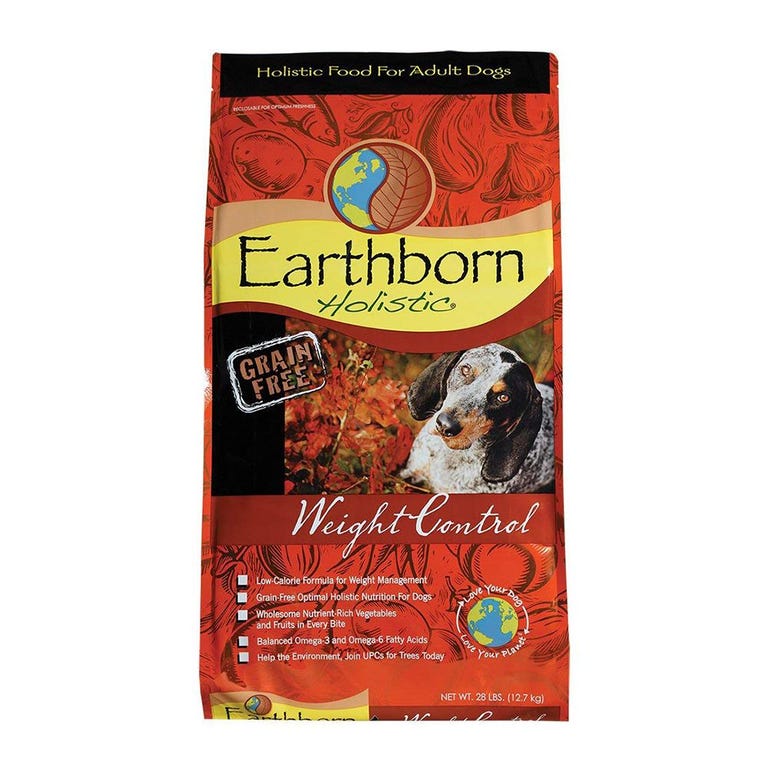 Earthborn Holistic dog food reduces fat and calories in your overweight dog's diet without sacrificing the nutrients necessary for their health. This dog food is made without grain or gluten and uses chicken meal for its protein source.
The recipe is very low in sodium, and will keep your dog fit and full from its blend of fibers, which includes vegetables and fruits like peas and apples. Earthborn Holistic has never been subjected to a recall, and its packaging is completely recyclable.
Zignature Dry Dog Food (27 pounds)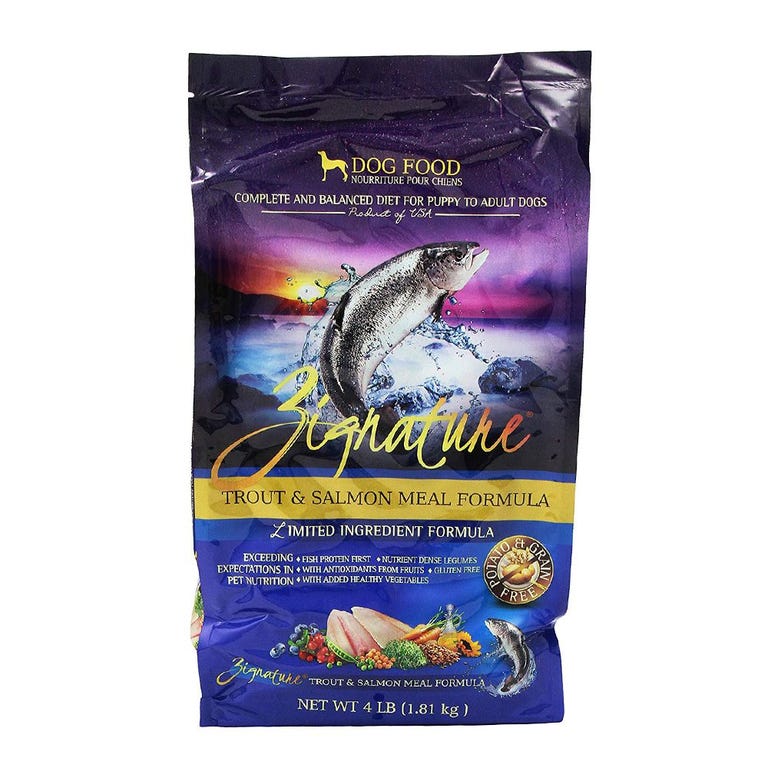 If your four-legged friend has any allergies, it's imperative that you pay close attention to dog-food ingredient lists, so you don't accidentally trigger an allergic reaction. We think Zignature's dry dog food is one of the best options you can buy for allergy-prone pups.
The dog food brand is also a favorite of Reviews.com. That's because this dry dog food has a hypoallergenic formula free from corn, wheat gluten, soy, dairy, and chicken.
Taste Of The Wild Canned Stew Dog Food (13 ounces, case of 12)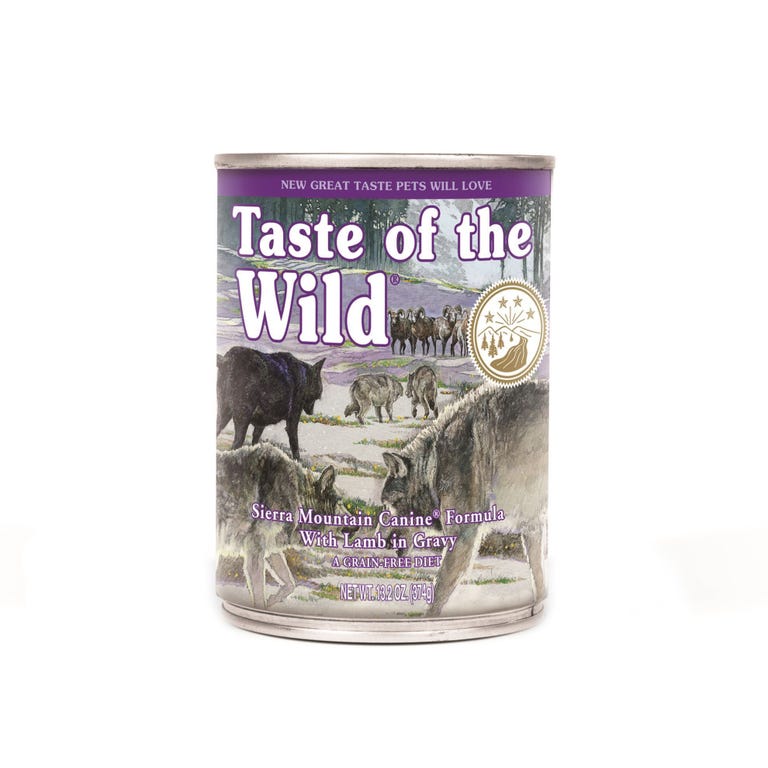 Whether you're dealing with a picky eater, or your dog is older and has lost their teeth, you might want to consider switching them to canned dog food. Taste of the Wild offers a wide variety of top-quality wet food that you won't mind the smell of when dishing it out for them. Each formula is prepared with unique animal protein sources, ranging from salmon, to bison, and in the case of this option, lamb.
You can see more pet products at treatadog.com and get discount code here
It works.
100% Success
It doesn't!