Poaching eggs is a notoriously difficult culinary skill and one that requires a specific technique, some finesse, and patience. To make life easier, many brands have created handy-dandy egg poachers to take the guesswork out of the whole process (and make cleanup much quicker, too!)
From clip-on poaching baskets to durable, nonstick egg-poaching pans, there are plenty of gadgets out there that can simplify the egg-poaching process. If you love making eggs Benedict on the weekend, do yourself a favor and invest in one of the below top-rated egg poachers.
---
---
Dash Rapid Egg Cooker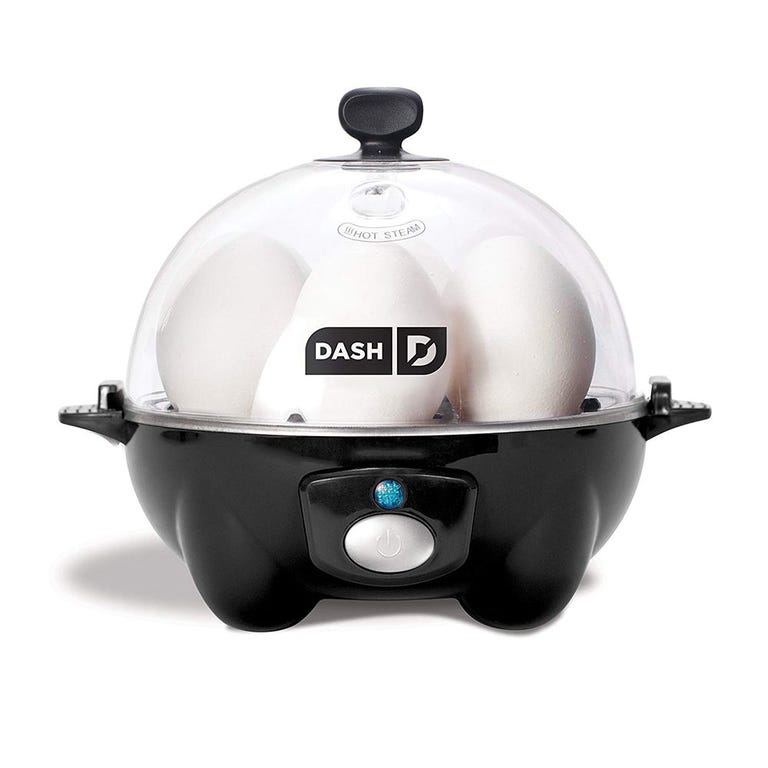 Whether you want to make hard-boiled eggs, poached eggs, or scrambled eggs, this electric egg cooker is a serious multitasker in the kitchen. This gadget can boil up to six eggs at a time, or poach up to two eggs at once with its separate poaching tray. Just add water and set the timer per the instructions, and get ready for perfectly cooked eggs in less time than it takes to boil a pot of water.
Included in this package is a Dash Rapid Egg Cooker, a poaching tray, an omelette tray, a six-egg holder tray, one measuring cup, a recipe book, and access to even more online recipes.
---
Cozilife Silicone Egg Poaching Cups
An Amazon best-seller, these silicone egg-poaching cups are simple yet genius, thanks to their lightweight construction and easy-to-clean interior. Simply place these cups into a pan filled with at least 1 inch of boiling water and then add your egg directly into the cup to protect it from tumbling over and breaking while cooking.
Users also love using these versatile baskets to gently steam smaller portions of vegetables like broccoli florets or cauliflower.
---
Simply Calphalon Nonstick Egg Poacher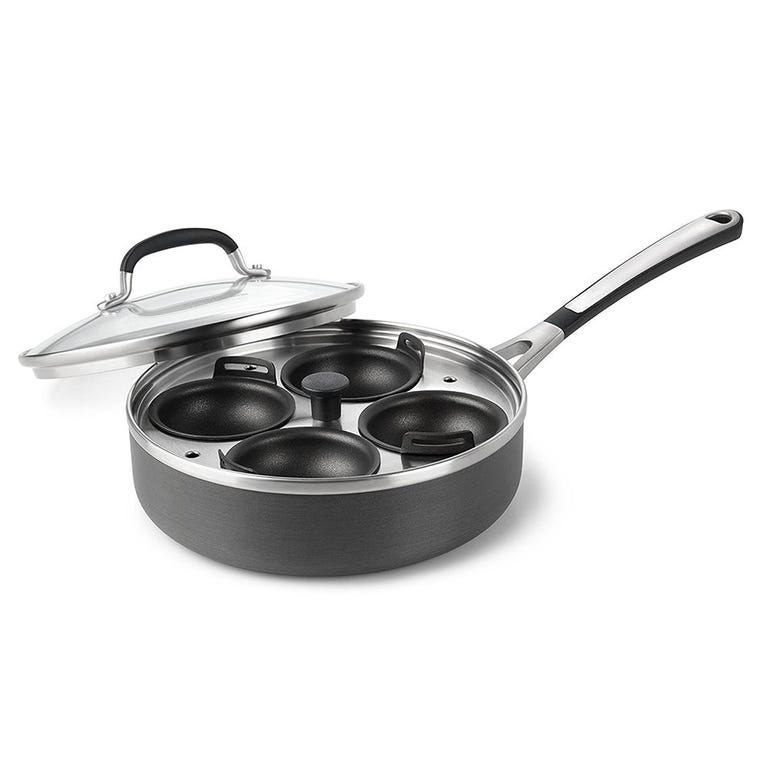 Calphalon makes super sturdy and durable cookware meant to be passed down from one generation to the next. If you're serious about cooking eggs to absolute perfection and you want to invest in the best egg poacher possible, we recommend this one.
A highly resistant Calphalon surface lets you safely use wooden, nylon, and coated utensils, plus it ensures your eggs slip right out of the cups in perfectly uniform discs. No messy cleanup!
---
KITZINI Silicone Egg Poacher
Here's how they work: All you have to do is spray the silicone cups with cooking spray, crack an egg inside, and then place into a pan with about an inch of simmering water. Cover them for just a few minutes to let them cook, and voila.
But wait! There's more! You can also make little egg cups full of veggies or fresh herbs by placing in your favorite ingredients, pouring eggs over the mixture, and cooking in simmering water. Plus, the silicone is BPA-free and easy to clean. How eggciting!
---
Cuisipro Stainless Steel Egg Poacher
With an adjustable hook for different pot heights, this stainless steel and (BPA-free) plastic egg poacher allows the water to circulate around the egg while keeping it from spreading. Any water that gets in the cup is easily drained through the holes by tilting the poacher back. No more stringy egg mess!
---
Norpro Nonstick 4-Egg Poacher
Short on storage? If you're looking to invest in a poacher smaller than the size of a large pan, go for this li'l guy. This thin poaching insert fits into a 10-inch skillet, which you probably already have, and is made of durable, nonstick material that easily releases eggs for guaranteed-intact Benedicts and breakfasts.
Once it's cleaned and ready for storage, it takes up no more room than a cupcake pan!
---