As you know, Christmas is the best time to spend time traveling with your family or friends. There are many interesting Christmas events 2019, and Enchant Christmas is one of the world's best Christmas events includes a scenic wonderland of holiday lights and local vendors. Many Enchant Christmas promo code, deals are available to grab. So let's find out.
1. About Enchant Christmas
Driftheory at Enchant Christmas Light Festival
Enchant is the creator of The World's Largest Christmas Light Maze – now with experiences in Seattle, Washington at T-Mobile Park, Tampa Bay, Florida at Tropicana Field, and in Washington, DC at Nationals Park.
Enchant Seattle
Enchant Christmas is one of the world's biggest and brightest Christmas spectaculars, Enchant make its U.S. debut this season. Sure to delight children of all ages, Enchant includes an ice-skating pond, hot cocoa, and sweet treats, and even a visit from Santa himself.
2. Interesting activities at Enchant Christmas holiday
The Christmas Light Maze
Enchant Christmas, with its light maze and skating trail
The World's Largest Christmas Light Maze taking guests through a twinkling wonderland that differs per city and is based on an original storybook!
VIP Event Experiences
Enchant will provide exclusive rooms for holiday parties and special events. It's time to enjoy all that the Enchant experience has to offer plus full-service catering, and more. Enchant Christmas is now accepting reservations for Holiday Parties.
Christmas Market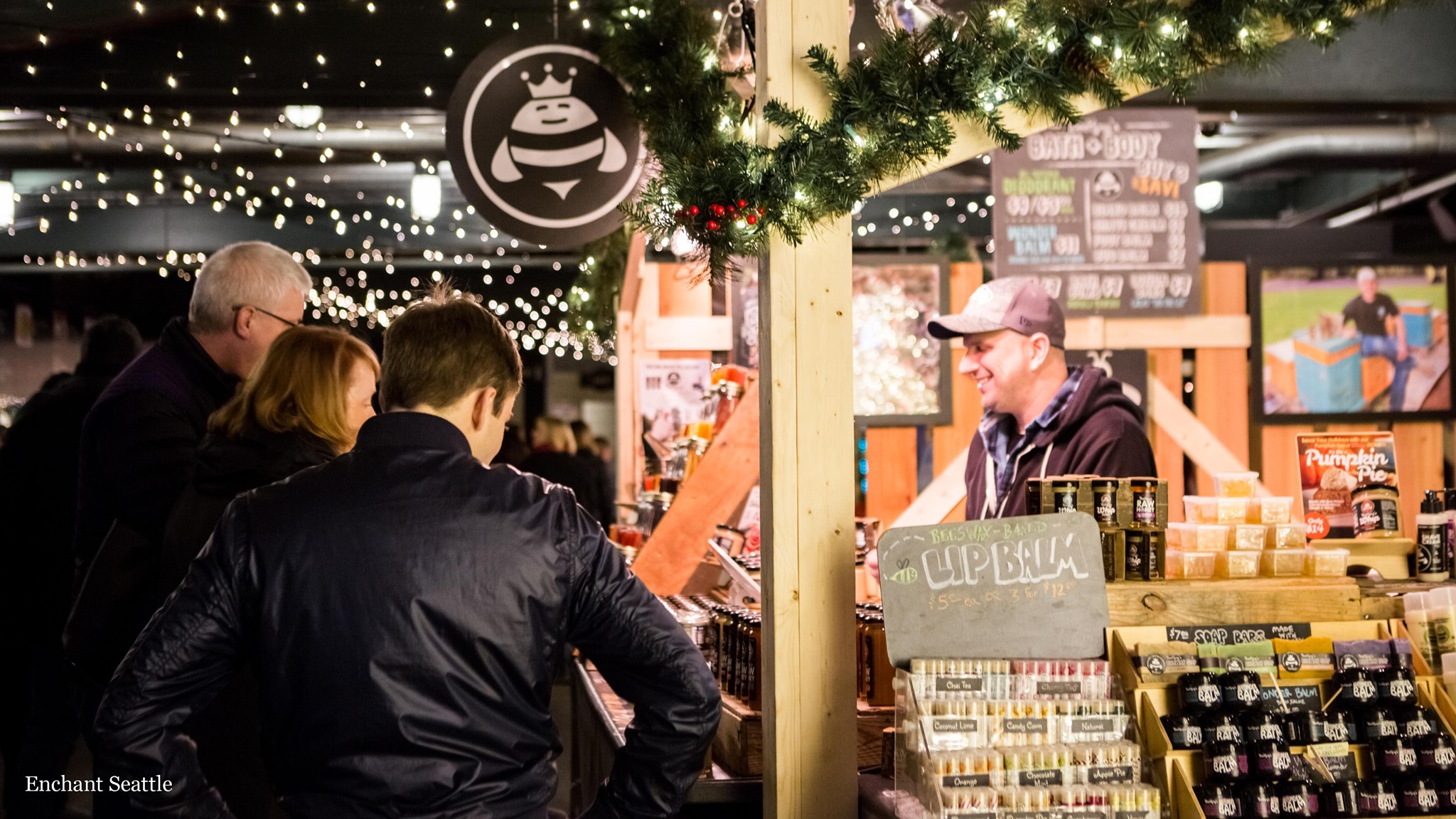 Enchant Christmas – Urban Craft Uprising / Seattle's Largest Indie Craft Show
Within Enchant Christmas, interesting activities are taking place. Visitors can taste seasonal delights and shop for holiday gifts from dozens of local vendors showcasing home decor, jewelry, gourmet foods, and more.
Visit with Santa and Mrs. Claus
Enchant Christmas:Seattle's New Christmas Event
Santa will take photos in his workshop with the children and he's bringing Mrs. Claus who will be leading storytime.
Food and Beverage
Food – Suzi Pratt- Enchant Christmas
At Enchant Christmas event, 21 local food trucks will be on hand to satiate the tastebuds of even the hardest Grinch. You can enjoy holiday-themed food and drinks that are sure to please everyone throughout the Concourse with a special bar experience on the field in the maze.
Ice-Skating Trail
Enchant Christmas, with its light maze and skating trail
Enchant features a magical Ice-Skating Trail adorned with spectacular light displays.
Live Entertainment
You will get into the spirit with nightly caroling throughout the venue and local busking-style musicians.
3. Enchant Christmas promo code, coupons 2019
If you want to save money during Enchant Christmas holiday, it's better to get Enchant Christmas promo codes, coupons, special offers. Many Enchant Christmas promo codes, coupons are available to get. You can save money on tickets, foods, drinks, activities when using them.
Don't miss Enchant Christmas promo codes, coupons
What You'll Get
$25 for one general-admission ticket (up to $34.15 value)
Enjoy $10 Off Of Tickets For The Child And Senior
Free Ticket For Children Under 3
10% Off Military /Emergency Services/Students
Up To 10% Off With Enchant Christmas Coupon Code
$2 For Enchant Orders, Limited Time
Ultimate Date Night And Holiday Gifts For Special One
20% Off 4x Family Member Tickets
Special Pricing & Exclusive Perks
Conclusion
To sum up, Enchant Christmas is one of the perfect place for your Christmas season. Hopefully, the above information will be useful for you. It's time to make a plan and enjoy Christmas activities within Enchant Christmas events.
Read more