Every girl wants to have a soulful eye with long, naturally beautiful lashes! This is why today False Eyelashes are so popular. It is said to be an indispensable make up an accessory and is likened to a pair of magic chopsticks for women's eyes. Even if you already own beautiful glitter eyes, you can't ignore fake eyelashes with the great transformation that makes your soul window much more attractive!
Here are the 5 best false eyelashes which favorited Makeup Artists and Beauty blogger
1.Lilly Lashes
Lilly Prom Lashes
If you are on the hunt for the perfect set of lashes for a charming girl- you will love these. The brand's falsies lashes are very beloved and popular in list celebrities and members of the royal families from Kim Kardashian and her famous sister to Lady Gaga and other several famous persons. The lashes are not only favorited by makeup artists but also by million Instagram followers.
Lilly Prom Lashes are designed thicker, they make your eyes look bigger and prettier instantly. They give you a natural look due to ultra-long lashes fiber, incredibly light-weight, and seamlessly blend with your natural lashes. It doesn't even feel like you have anything on. Your eyelashes will look fuller and more curled if you applying a bit coat of mascara. These lashes easy to use and they suit any eyes shape. These would look fabulous for a night out at the club, or a date night!
Due to the lashes are super durable and really good quality, the price is quite expensive. However, Lilly Lashes still launched many discount programs for best-seller products, especially on holidays. So you can buy Lilly Lashes's products at a reasonable price.
Pros: High quality, sit on the lashline comfortably, long-lasting
Cons: pricey
2.Ardell
The Ardell Demi Wispies Fake Eyelashes
The Ardell Demi Wispies Fake Eyelashes is one the best selling lashes in the market now that has over 200 different lashed from dramatic to natural. Fake Eyelashes loved by reasonable prices, with proper care they are reusable, and easily apply and remove.
These lashes feature an invisible, lightweight band thatconnects the hair strands to form a strip that ensures secure corners. Falselashes are knotted and feathered by hand for perfect uniformity, provides justthe right length for a glamorous flutter, and a natural look. Add a bit ofmascara,you can outstanding natural look with a more glamorous eye for a datenight or casually around town.
Ardell has been a go-to source for false lashes for make-upartists, editors, and beauty fanatics alike.
A set of false eyelashes included 4 pair, if you applied andmaintained correctly, they can reusable from four to s ix time each.
Pros: Adds leghth and volume, reusable and easy to apply, doesn't weight d own eyelashes so theyalways feel natural and Ardell Fake arelightweight and give a natural look of full, beautiful lashes.
Cons: You will haveto buy your own fake eyelashes glue.
3.Huda beauty
Huda Beauty Classic False Lashes
Huda Beauty is one of the world's fastest-growing beauty brands. It has been launched since 6 years ago in 2013 by beauty blogger Huda Kattan. Beginning as a blog in 2010, Huda Beauty has fast become the number 1 Beauty Instagram account in the world with over 26 million followers and counting. The lashes become incredibly popular after being wear by some celebrities including Kim Kardashian and her famous sisters.
Accessorize every makeup look with these gorgeous lash. Huda Beauty Lashes now has 16 different types. Huda Beauty Classic False Lashes is a cult favorite and comes in an array of sophisticated designs—from Giselle to Lana. Made of synthetic mellow fibers, these high-quality lashes are very durable, and do not need mascara.
These lashes are vegan, cruelty-free, and made from synthetic mellow fibers and a cotton band. Huda Beauty Classic False Lashes were created by lash guru and leading beauty personality, Huda Kattan. Light volume, natural style lashes that create a subtle, beautiful appearance while creating the illusion of a thicker lash line.
They are ideal for everyday enhancement, whether you are looking for a subtle, soft and flirty look or you crave enviably (but believable) eyelash length. Each lash can be used up to 12 times depending on care.
Pros: Celebrity favorite, Hand-crafted to fit all types of eyes, vegan and cruelty-free, durable, reusable
Cons: 20 bucks so they're a little pricey but worth every penny!
4.Sephora
Sephora Collection Luxe False Lashes
For those of you who like to keep it simple and natural – these false by Sephora will blend right into your natural lashes. The Sephora Collection Luxe False Lashes will enhance your lashes in the most subtle way.
The Sephora Collection Luxe False Lashes are made from incredibly soft natural hair fiber for a natural look, easy application, and comfortable wear. A set of false lashes come with 36 individual lashes that have a different length. You can mix short, medium, and long lashes to achieve natural-looking volume and allow the user to have control over how thick or thin they want every area of their lash line to look.
One shopper wrote: "These lashes are gorgeous!! They are so fluffy and soft and provide just enough extra oomph that they'll be versatile enough for both more natural and dramatic eye looks. This style specifically, "Plume", I don't have tons of lid space, so dramatic lashes tend to look odd on me, i.e. Ardell Demi-Whispies is too dramatic for my eyes, and regular Whispies nearly touch my eyebrows. This style is dense enough without looking unnatural but also they are super fluttery and the varied length of all the fibers make for a really nice look"
Shoppers, please note that individual lashes only apply when you have plenty of time to ready!
Pros: so soft and fluffy in texture, high quality, they look and feel real, control of how thick or thin your lashes will be, the mix of lengths
Cons: waste of time
5.Vassoul
If using eyelash glue is too difficult for you, Vassoul Duel Magnetic Eyelashes will be the solution for you.
Magnetic lashes are a little different to traditional lashes, in a box you get two strips for each eye. You can put the first strip on top of the upper lashline and the second one below the upper lashline-sandwiching your own lashes in between the falsies. The magnets then stick together, clamping your own lashes in between and securing the strips in place. Curling eyelashes and applying a little mascara to help give the lashes some grip. The Vassoul Duel Magnetic Eyelashes are the low-maintenance, non-irritating false lashes. These falsies are made with a double layer of lashes for an extra boost of volume and length. They are the perfect combination of nature and charm.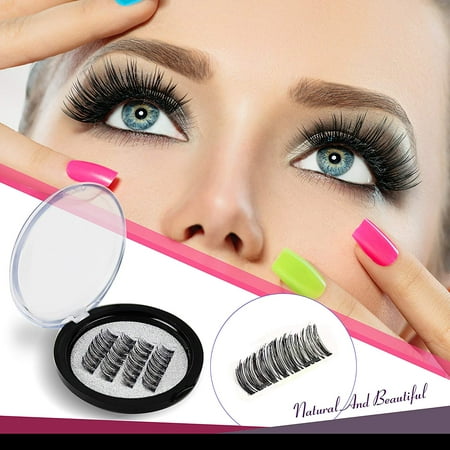 These lashes come in a clear tray, and you get two pairs in a pack, each pair has eight lash strip. So if you use them for the first time, give yourself some extra time.
Pros: Reusable, no lash glue necessary, comes with applicator, low-maintenance, non-irritating.
Cons: Can be tricky to put on at first.