Here below is these fry cutters make it easy to create homemade french fries that you — and the kids — are sure to love.
New Star French Fry Cutter with Suction Feet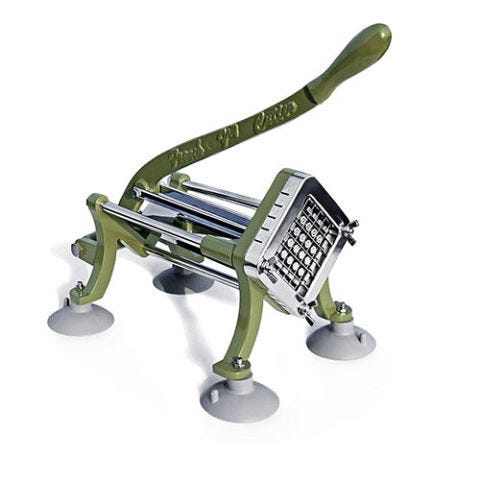 $60 BUY NOW
Best for Staying Put
Suction cups will keep this fry cutter in place without having to permanently mount it to a wall or counter. The grate will cut fries into perfectly even half-inch sticks. Plus, it's made out of highly durable, coated cast iron that'll never rust, so it'll be a long-term companion that can brave several years of use.
Culina French Fry Potato Cutter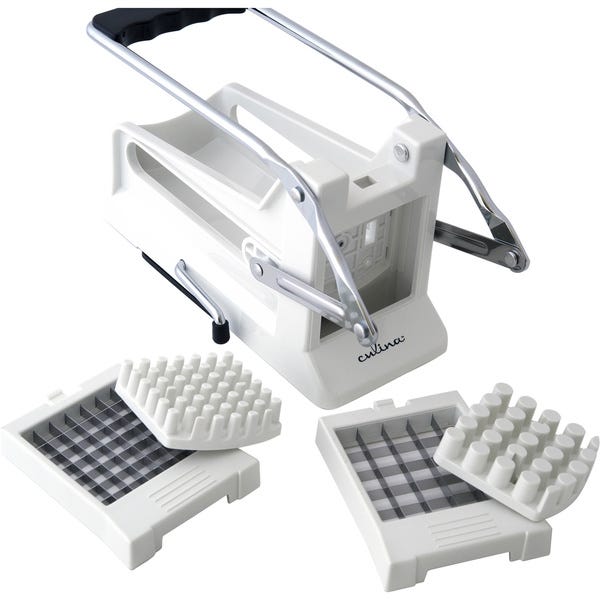 $20 BUY NOW
Best for Different Sizes
Don't hassle over potatoes that just won't fit. This fry cutter's integrated curve-shaped device (located on the lower part of the unit) is designed to comfortably accommodate potatoes of varying sizes. Plus, the exchangeable grids will cut the potatoes into sticks either a half an inch or three-eighths of an inch wide.
Bradex Potato Chipper Veggie Chopper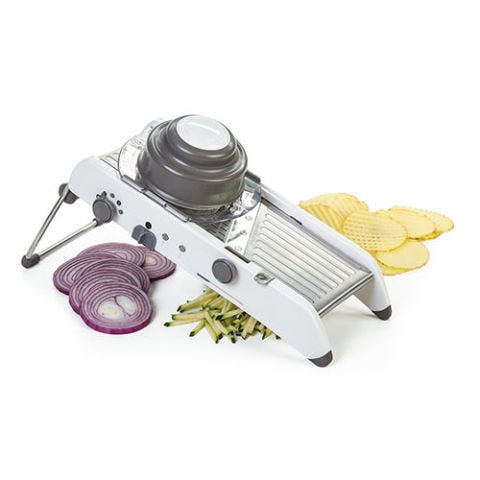 $56 BUY NOW
Best for Different Fry Shapes
In love with waffle fries? Bet you never thought it was actually super easy to make them at home! Just attach the special waffle blade to this mandolin and adjust the thickness of the cut to the maximum size, for perfect waffle fries in seconds. Prefer your potatoes thin and crispy? The julienne blade will give you perfectly even matchstick fries, and the flat blade will get you potato chip slices for maximum fried-potato options (yummmm).
Fullstar 5-In-1 Vegetable Chopper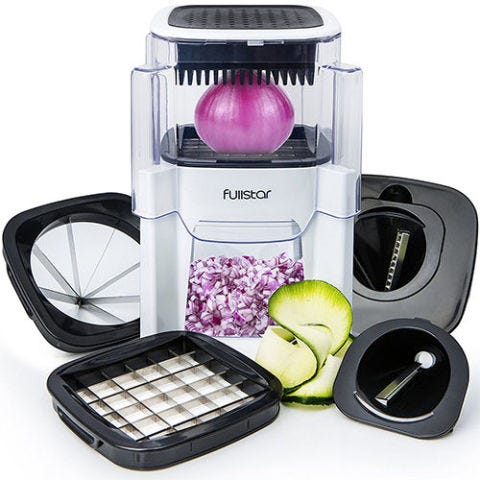 $11 BUY NOW
Best for Multitasking
With a thick-cut and a medium-cut grid option, you can use this cutter to make yourself two different sizes of fries. But if you're not one for kitchen uni-taskers, you can also use the various attachments to prep citrus wedges, zucchini ribbons, or even spiral cut veggies, making this a seriously useful meal-prep tool.
Hamilton Beach Weston French Fry Cutter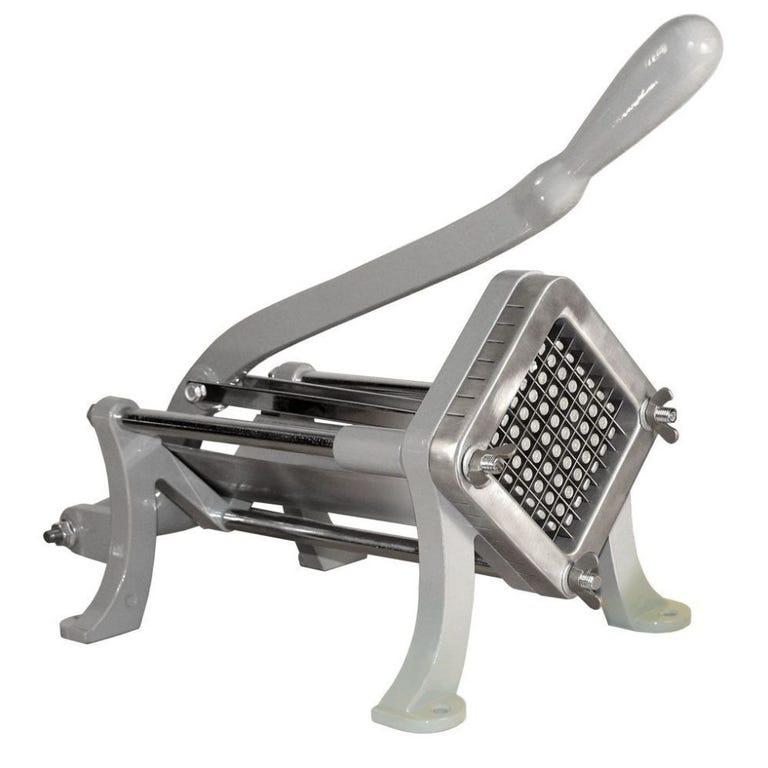 $76 BUY NOW
Best for Hardcore Use
Looking for a more heavy duty option to mount to a butcher block or the wall? Though this one comes with suction cups on the legs, helping it stay put on a regular counter top, it can also be mounted permanently to any flat surface for super sturdy cutting. If you entertain frequently, have a big family, or just like to make big batches of fries a lot, this is our rec for the best way to go
Zyliss Crinkle Cut Knife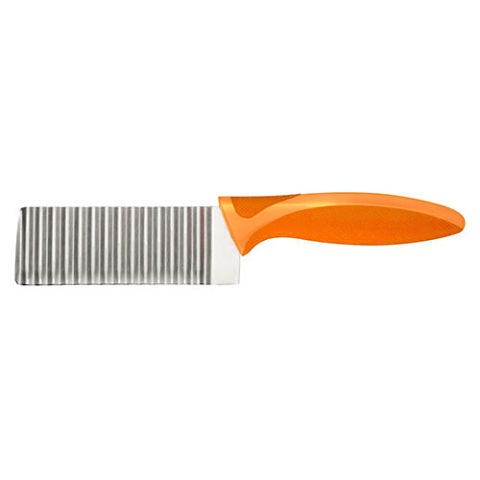 $9 BUY NOW
Best for Crinkle Cuts
Make your own Shake Shack fries with a crinkle-cut knife! There are two shapes of crinkle cutters you can get — this type, which looks just like a regular knife, or a top-down chopper that basically looks like a bench scraper. You can find the other shape here, though we prefer the kind with a knife-like handle.
Jumbl French Fry Cutter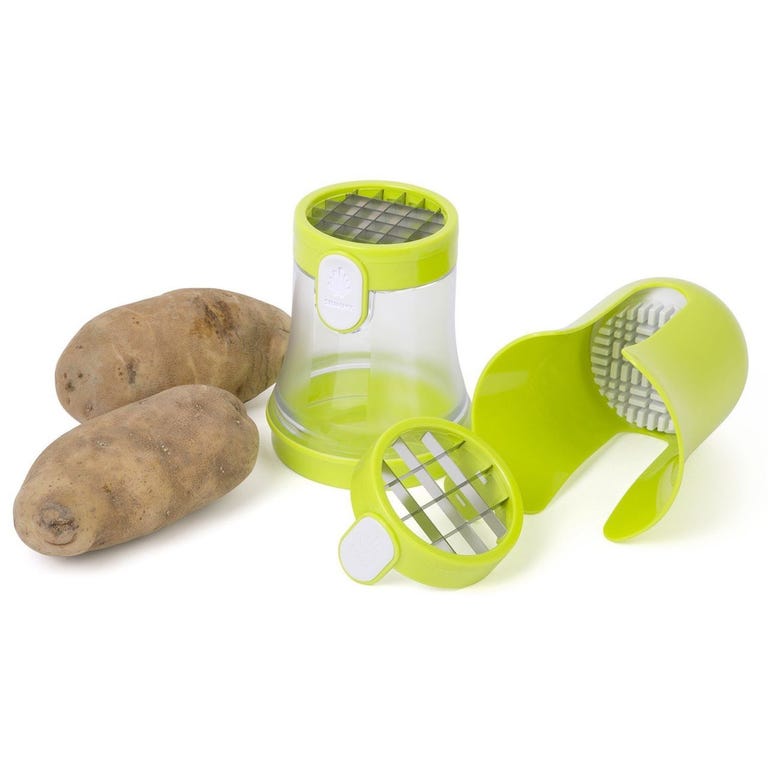 $20 BUY NOW
Best for Comfortable Clutching
All you have to do to use this cutter is place the potato in the top (an easy-to-grip cylinder) and press it down against the blades. The cup will catch the potato slices, making clean-up super easy since they won't fly off everywhere. Just make sure you cut the potato ends down, so the length of it is short enough to fit inside the cup.
Norpro French Fry Cutter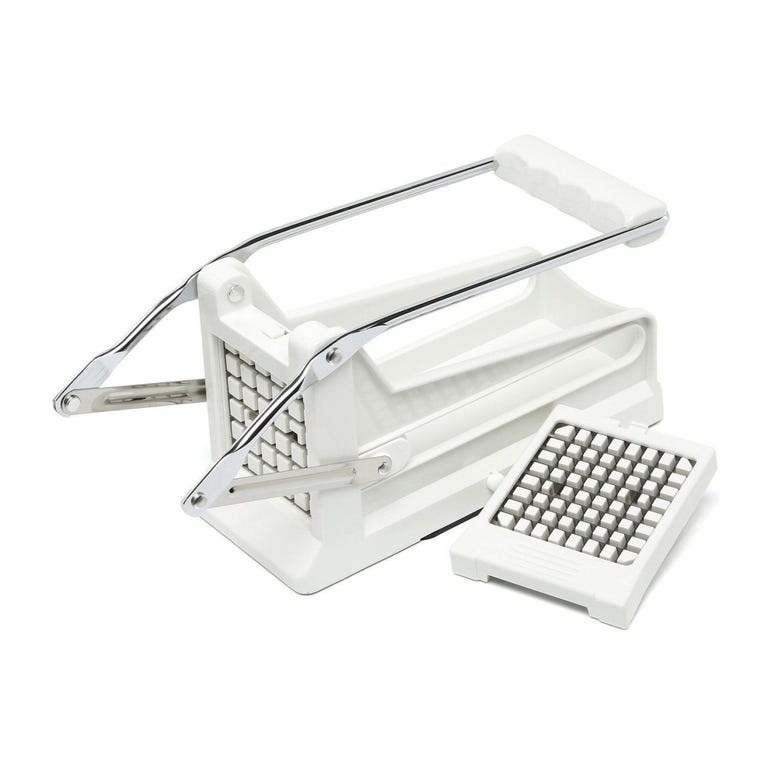 $21 BUY NOW
Best for Easy Clean-Up
If you're looking for a simply counter-top fry cutter, this basic model will perform consistently, plus most of the pieces can be tossed in the dishwasher for easy cleanup. It has two grids for differently sized fries, and works exceptionally well with softer veggies like zucchini (try making baked zucchini fries with bread crumbs and parmesan — so good!).