Logitech offers some of the best gaming mouse selections in the business. Don't worry — we'll help you better navigate the company's product lineup and choose the right piece of gaming gear for your needs and budget.
---
Logitech G Pro Wireless Gaming Mouse
Best Overall
The Logitech G Pro is the company's finest gaming mouse available today. It packs the most accurate and power-efficient sensor to date. Appropriately named HERO 16K, the component has a maximum sensitivity of 16,000 DPI, as well as power efficiency that's vastly superior (10 times to be exact) to its predecessor. Of course, the mouse also offers superb craftsmanship and ergonomics. It comes with a sweet 2-year warranty.
The mouse is compatible with Logitech's LIGHTSPEED technology for uncompromising performance in wireless mode. Even though it's packed with cutting-edge hardware and features, the mouse weighs less than three ounces. The mouse can deliver up to 60 hours of wireless gaming without RGB lighting, and up to 48 hours with the feature switched on.
---
Logitech G203 Prodigy Gaming Mouse
Best Budget Buy
With understated looks inspired by the beloved Logitech G100S, the G203 Prodigy wired gaming mouse cuts a fine balance between price, performance, and everyday usability. It is the best Logitech offering for gaming on a tight budget you need to know about.
The mouse has an optical sensor with adjustable sensitivity — which tops out at 8,000 DPI — a classic six-button layout, and customizable RGB lighting. Available in black or white, it is a great option for casual gamers.
---
Logitech G603 Lightspeed Wireless Gaming Mouse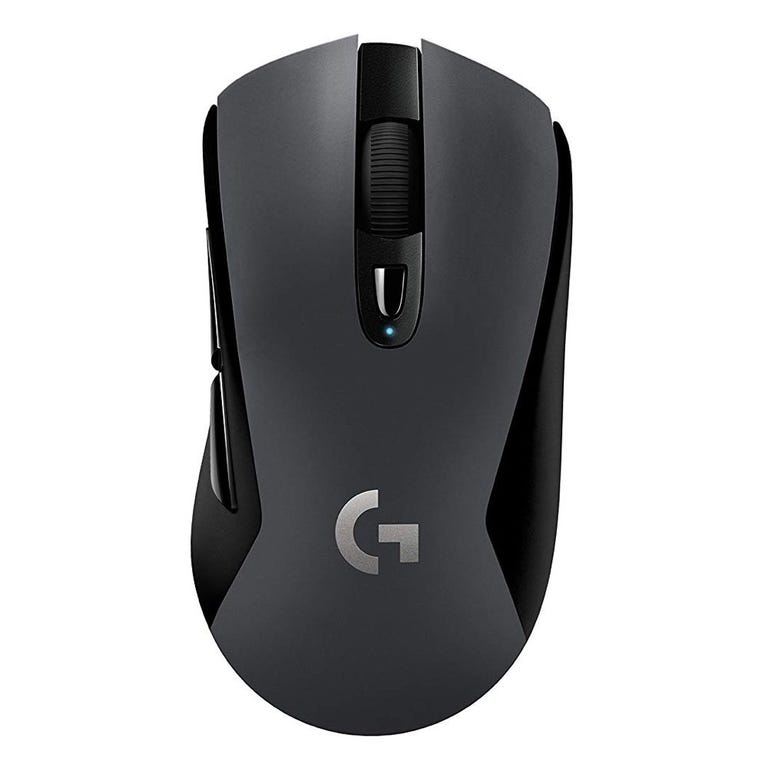 Best for Wireless Gaming on a Budget

The Logitech G603 Lightspeed is our favorite budget-friendly wireless gaming mouse the tech giant offers. It packs an highly capable optical sensor with maximum sensitivity of 12,000 DPI, as well the Logitech's LIGHTSPEED tech for compromise-free gaming performance in wireless mode. Bluetooth connectivity for a more conventional wireless connection is also on board.
You can choose between peak wireless performance, or more energy-efficient mode via a dedicated switch. The latter extends the battery life of the mouse to 18 months (the mouse can deliver up to 500 hours of gameplay in peak performance mode). The G603 is powered by two AA batteries.
---
Logitech G502 HERO Gaming Mouse
Best Wired Pick
The G502 HERO is a successor to one of the company's most popular gaming mice, as well as our favorite wired pick Logitech offers today. It packs the same HERO 16K sensor as the Logitech G Pro we already mentioned, as well as 11 customizable buttons.
Other key features of the mouse include adjustable weights for personalized balance, as well as customizable RGB lighting. We love the metal scrolling wheel of the G502 — whether you are gaming or scrolling through a webpage, it's a pleasure to interact with.
---
Logitech PRO Hero Gaming Mouse
Best for Competitive Gameplay 
The Logitech PRO Hero wired gaming mouse has been designed with competitive play in mind. Underneath its body with no-frills design lays Logitech's most advanced HERO 16K optical gaming sensor with maximum sensitivity of 16,000 DPI.
Other key features of the mouse include lightweight yet sturdy build, classic button layout, customizable RGB lighting, and a cable with a smooth finish. We like that you can can sync the lighting with the rest of your compatible Logitech gaming gear via a feature called LIGHTSYNC.