Simply7 Gluten-Free Jalapeño Lentil Chips (12-Pack)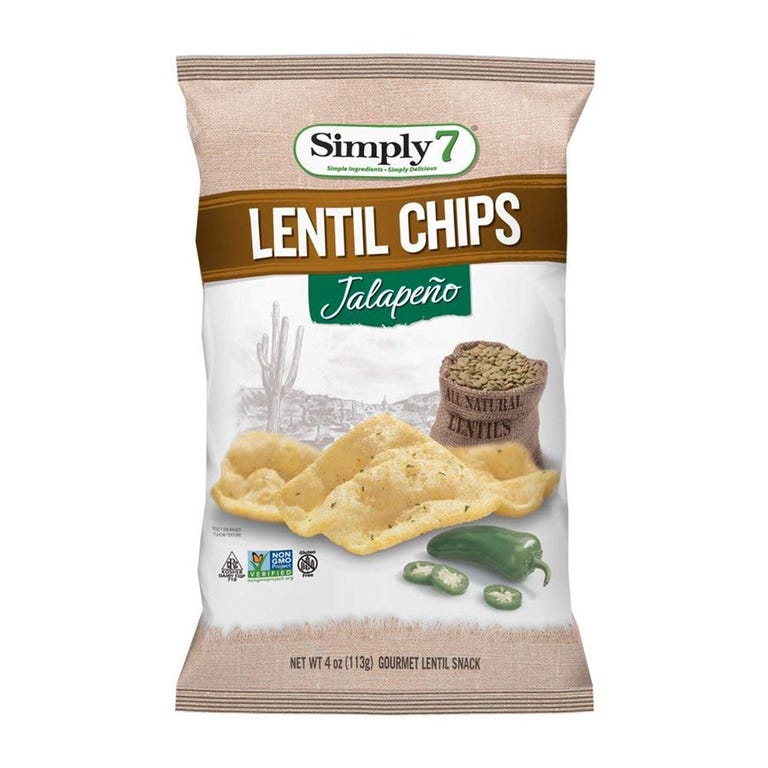 Made from lentil flour, these gluten-free chips from Simply7 are a solid source of protein with 3 grams per serving. With 40% less fat than traditional potato chips, these gluten-free crackers are a much cleaner alternative for snacking. Go for the jalapeño flavor if you love a little bit of spice in your snacks.
Crunchmaster Original Multi-Seed Crackers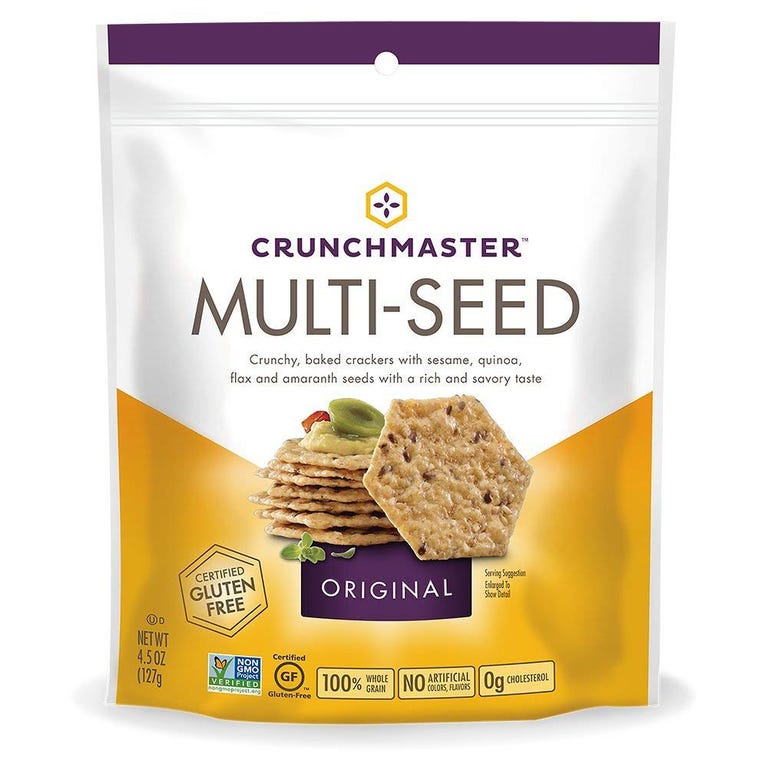 Crunchmaster makes a number of different gluten-free crackers, but some fans say this multi-seed version is the tastiest of them all. These crackers are a combo of toasted sesame, flax and amaranth seeds, and quinoa, which are all coated in a tasty layer of wheat-free tamari.
Simple Mills Fine Ground Sea Salt Almond Flour Crackers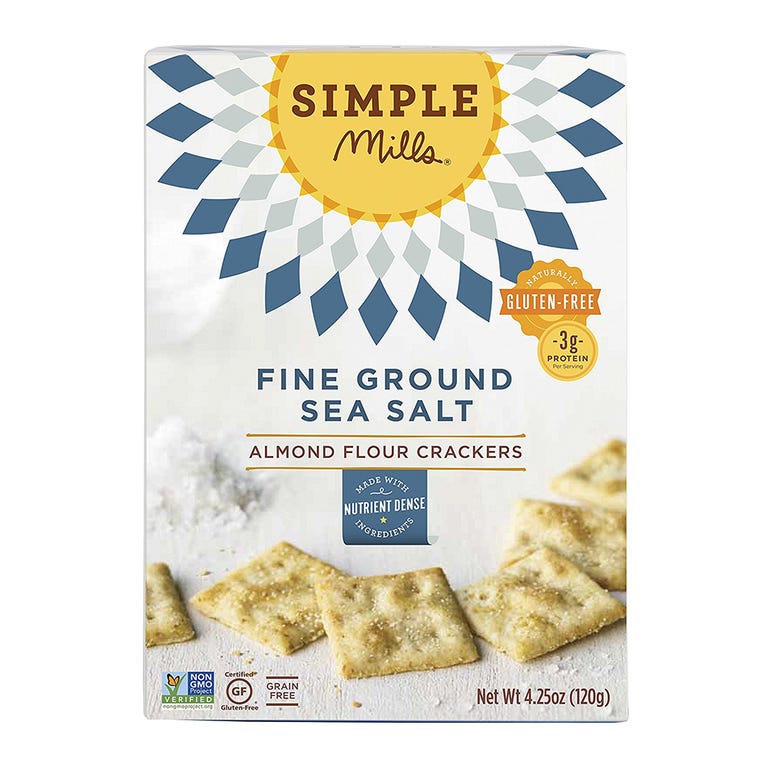 Do your waistline a favor: Toss out those Cheez-Its drenched in saturated fat and pick up a box of these wholesome gluten-free crackers instead. They're made with simple, whole ingredients like almond flour, sunflower seeds, and flax seeds, and come in yummy flavors, including Farmhouse Cheddar and Fine Ground Sea Salt.
Nairn's Gluten Free Whole Grain Oat Crackers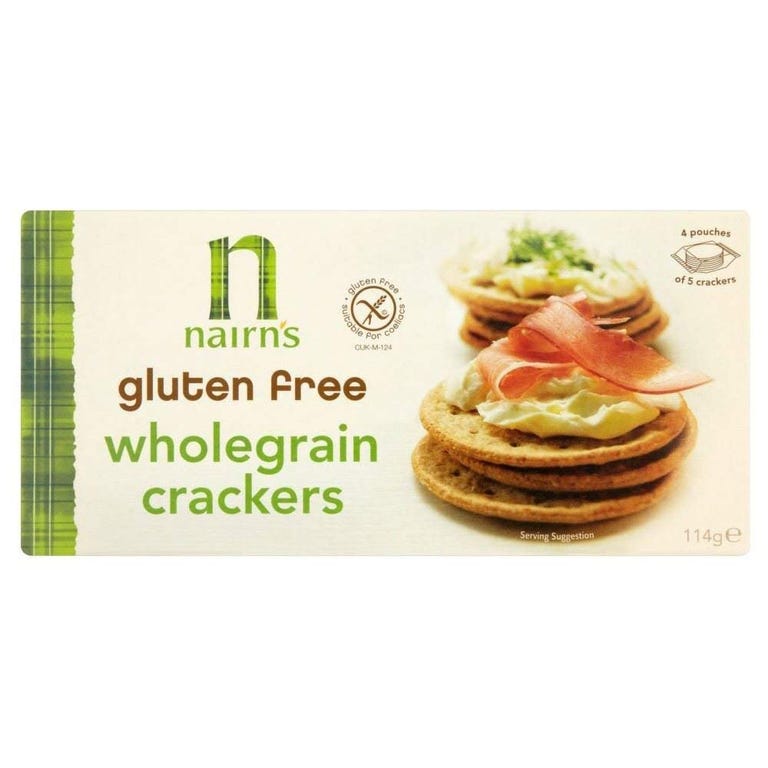 These tasty crackers from Nairn's are packed with nutritious gluten-free whole grain oats and just the right touch of sea salt and honey. We especially dig the convenient, individually packed pouches for simplified snacking on the fly.
Saffron Road Rosemary Herb Gluten-Free Lentil Crackers (6-Pack)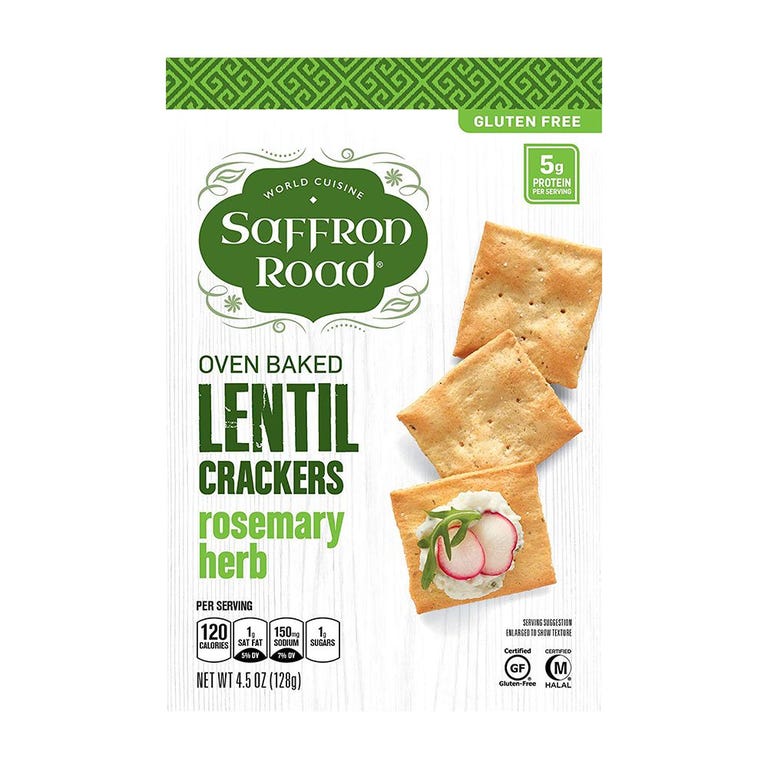 Packed with fiber and made from protein-rich lentil flour, these oven-baked lentil crackers from Saffron Road contain 5 grams of plant-based protein and only 100 calories per serving. With the zesty taste of rosemary and other herbs, these gluten-free crackers taste delicious paired with an olive tapenade or a scoop of hummus.
Edward & Sons Purple Rice and Black Sesame Exotic Rice Toast (12-Pack)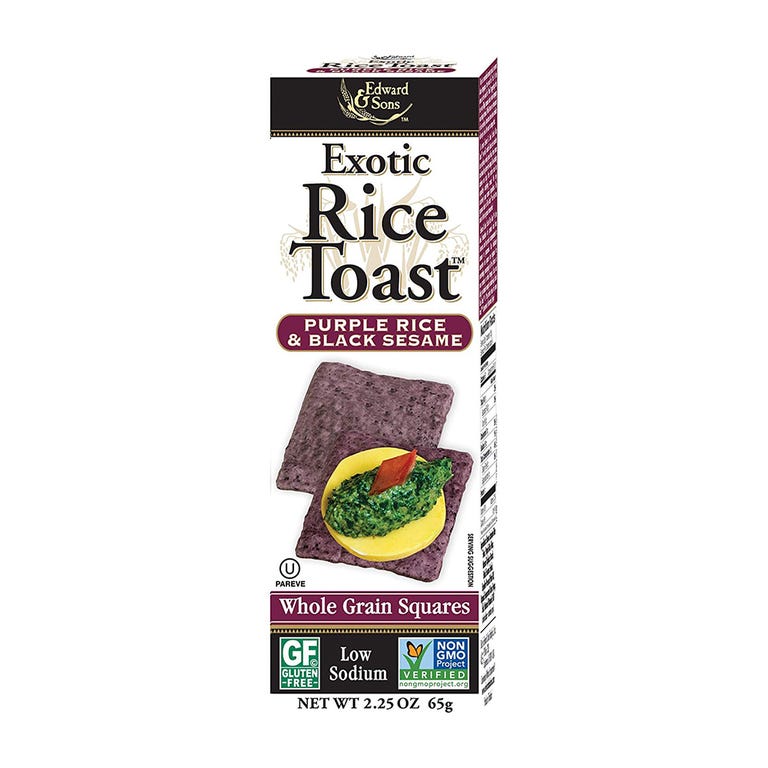 Purple crackers? These "whole-grain squares" aren't dyed at all — the purple hue comes from the natural color of the rice grains themselves! Fans say these thicker gluten-free crackers are great for dipping, since they are firm enough to hold a thick spread without breaking.
Blue Diamond Almond NutThins Gluten-Free Crackers (12-Pack)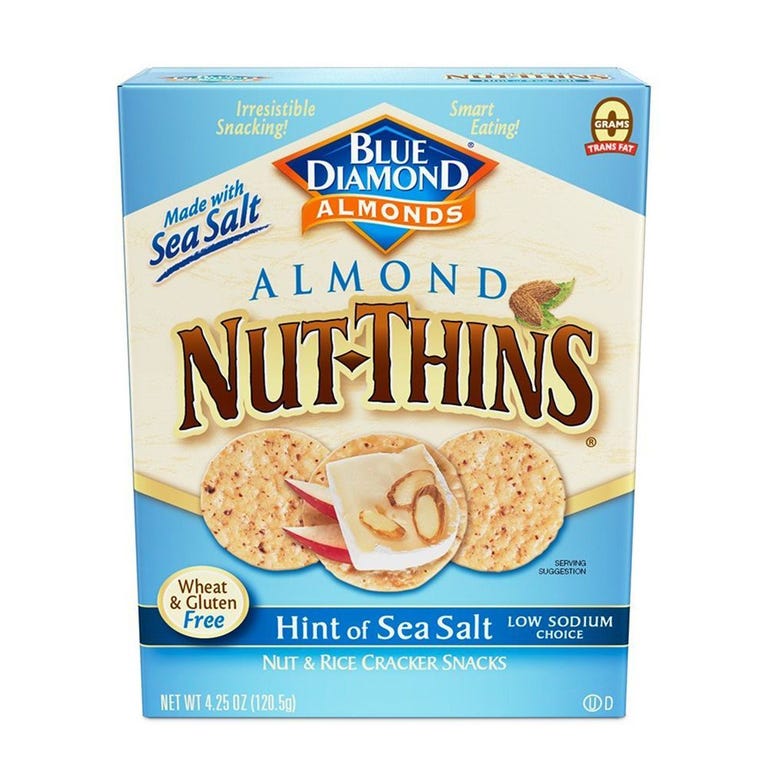 See if you can eat just a handful of these crispy gluten-free crackers from nut brand Blue Diamond. They're made mostly of rice flour and almonds, with a rich and nutty flavor that really shines through. Add a scoop of almond butter and a crisp apple slice for a wholesome afternoon snack.
Ka-Me Sesame Rice Crackers (12-Pack)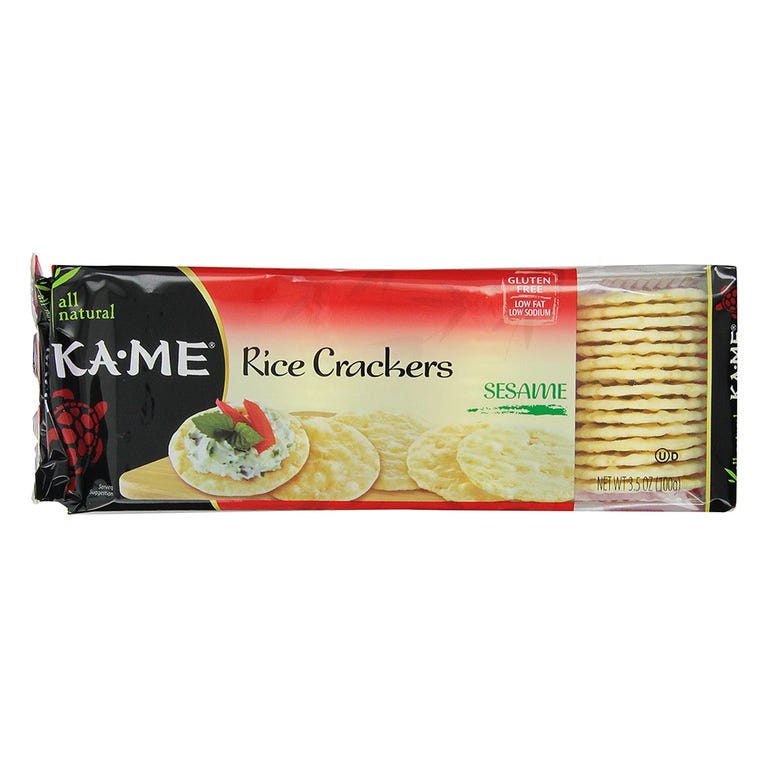 These light, crunchy gluten-free crackers have a subtle flavor from sesame seeds and just the right amount of salt. They go well with a slice of cheese, or all on their own as a quick snack.
Mary's Gone Crackers (Pack of 6)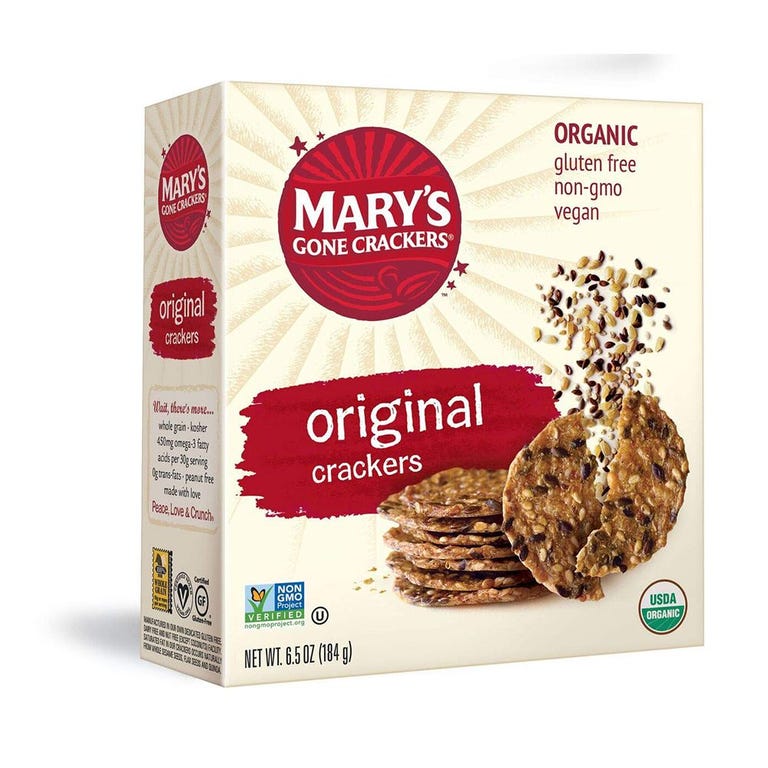 Certified organic, non-GMO, and gluten-free, these yummy crackers are crunchy and super satisfying. Made with whole-grain brown rice, quinoa, flax seeds, and sesame seeds, these gluten-free crackers taste delicious served with an apple slice and cheddar cheese or a smear of your fave hummus.
See more:
10 Best Dairy Vegan Cheese Brands in 2019
8 Healthiest Raw Honey Brands You Should Purchase In 2019
12 Tasty Gluten-free Pasta Brands That Don't Skimp On Flavor
9 Best Frozen Pizza Brands For A Perfect Quick-Meal 2019