HOOT stands for Hands On Occupational Therapy
HOOT for Kids was born out of love and passion for children and is led by Lisa, a Pediatric Occupational Therapist

HOOT promotes purpose driven play with toys & activities to strengthen developmental skills & milestones. Each month your child will receive a treasure box with quality toys and personalized activities based upon their age and developmental stage.
WHY YOUR KID NEED HOOT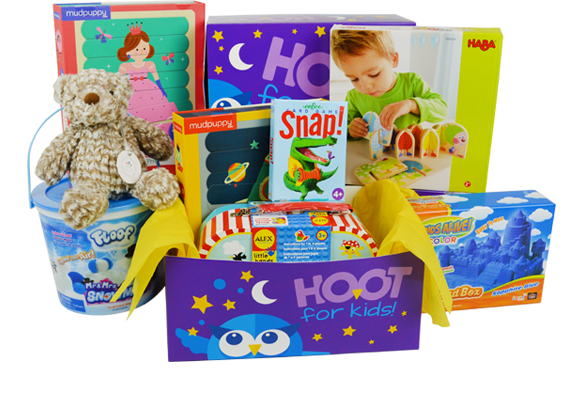 Toys foster growth and can be used in many creative ways, including as a tool to enhance key developmental areas: fine motor, gross motor, and sensory processing skills. In addition, the right toys and activities can also help parents be instrumental in facilitating developmental milestones. Toys can be utilized to address a child's physical limitations, sensory integration issues, speech and language concerns and other developmental delays including Autism Spectrum Disorders (ASD).
HOW IT WORKS
Every child has unique needs, so each HOOT For Kids Treasure Box is custom packed based upon the child's age and developmental stage. You answer questions about your child's age and developmental stage on the HOOT website when you order your box. The HOOT Treasure Box arrives packed with at least three toys and a card that describes ways to utilize those toys with fun activities to challenge and stimulate your child.
As their commitment "We are committed to bringing you and your child our expertise in selecting the highest quality toys and fun-filled activities to foster your child's development. In addition to receiving toys selected specifically for your child, you will also gain insight and knowledge to further assist your child in a playful and dynamic manner"
OUTSTANDING OF HOOT
RECEIVE A TREASURE BOX WITH 3 OR MORE TOYS
You pick the plan and they will select quality toys that challenge and engage your child. Tell them about your child to help personalize your box even more!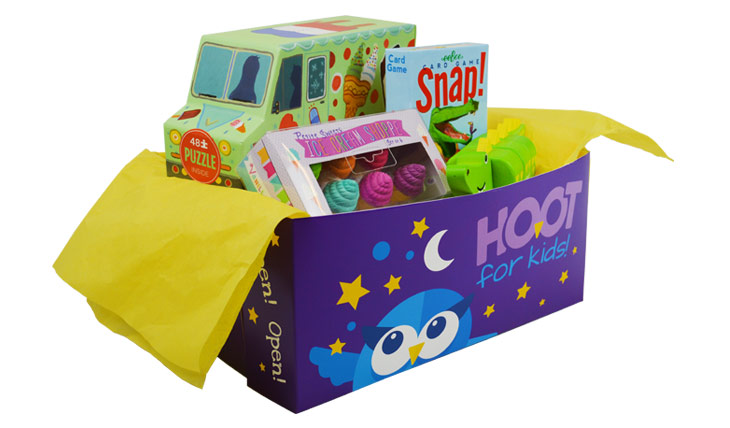 EACH BOX COMES WITH AN ACTIVITY CARD
Their suggested activities and tips for play by a developmental specialist will help your child maximize their potential.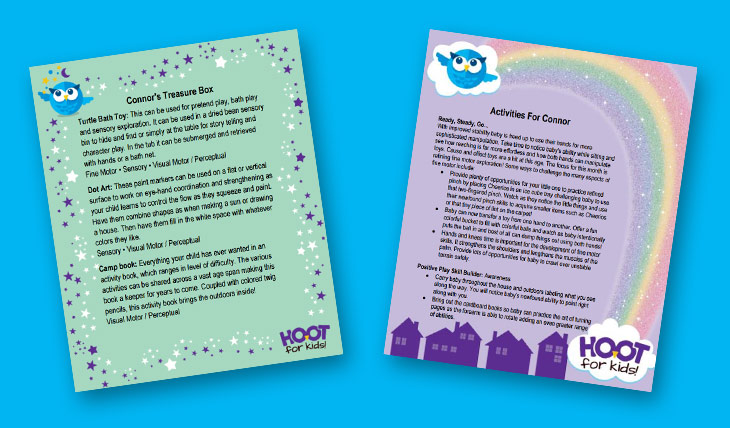 AFTER SIGN UP TELL US ABOUT YOUR CHILD
Your optional answers will help them select toys and activities based upon your child's age and developmental stage. They target areas such as fine motor, gross motor, sensory, strength, oral motor, visual perceptual, and creative play.

FAVORITE BOXES MAKE GREAT GIFTS
They also offer favorite gift boxes. Each includes 3 or more toys in every box
MEMBERS GET FUN ACTIVITIES AND ADD-ONS
Download additional activities or select unique quality items from several categories including birthday, blankets, books, feeding and bathing and more! Just pick your items and it will arrive with your shipment.

REVIEW FROM CUSTOMERS
"Loved the uniqueness of the products included – better quality toys that inspire creativity and engagement."__Penelope G. from New York
"A great, personalized box for kiddos. I like that they focus on developmental skills and suggest age/stage-appropriate activities in addition to the included toys."__Wendy
READ MORE