About Mineral Hygienics
Mineral Hygienics has an unusually human approach to business. They always figured that putting people before products just made good common sense. They put their customers first by making incredible products for them to enjoy and serving them with good old fashion customer service. Their products is exactly the need for their customers and they always stay in a high level of quality – All for the beauty.
About the Product

Mineral Foundation– made with pure quality minerals and fewest amount of ingredients that provides a lasting coverage and SPF Protection.
Available in 14 Shades from Fairest to Deep.
Five Diffrent Shades of Mineral Foundation to try, swatch and match!
Fair– my perfect match, looks really natural on my NC20 skintone!
Fairly Light– perfect on fair to light skin with cool to neutral undertone.
Light– has a neutral shade that will definitely look very natural on light skin with pink or neutral undertone.
Medium Light– has a warm pink suitable for light to medium skin tone with a touch of color.
Medium– has a neutral shade for those with cool or yellowy undertones. I still find the medium wearable and still match my skin tone. It will definitely work well for light olive-skinned women.
Full Coverage Kabuki Brush
described as Super Kabuki because of its unique handle design, incredible attention to details and quality of the hair. It has compressed bristles that provides wonderful application.
Mineral Foundation is a great partner for every beauty lovers.
Customer reviews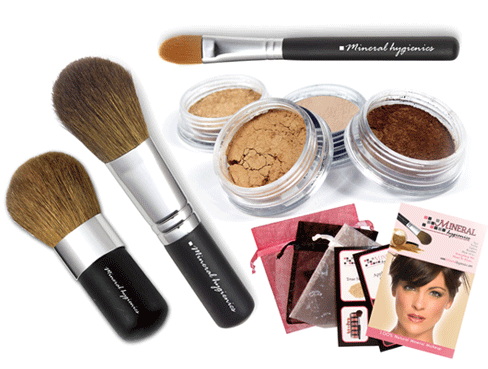 Published by Valerie Camina
I love this makeup because of its simple ingredients. I have very sensitive skin and this makeup does not irritate my skin or cause skin reactions. Makeup goes on really smooth and has no harsh ingredients and chemicals and I love that! I will definately be getting more of this. Keep up the great work! 
Published by Jodie Sherer
I was a Bare Minerals fan for several years but thought it was making my skin oily so I found this Mineral Hygienics on line and order the sample kit, I have used it for over a month now and it is fantastic! My skin looks great! The color match is awesome and it is super easy to work with! Thanks for a great product!
Published by Becky Beer
I've been using this for years and love it! A suggestion I have is please use some older celebrities when trying to pick a shade… I'm in my mid 50s and I had a hard time comparing my face ,tone, and complexion to Jessica Alba and Jennifer Lopez. These girls do not have wrinkles yet! Still the best there is in mineral make up!
Published by Carrie McCarthy
the powder goes on really smooth and is very easy to blend. and smells really nice!! it works well to cover spots and blemishes. and I absolutely love the brush!! very soft and no bristles fell out
See more