MotoCMS is a leading provider of the most powerful content management system. It's advanced enough for professional website developers and intuitive enough for end-users to be able to easily work with it.
Users are able to create functional and stunning websites in three easy steps – choosing the design from over 2,500 templates; adding content with the system's Drag & Drop Web Builder, and launching your website online. MotoCMS websites boast to be fast and responsive, capable of addressing various requirements such as social growth, eCommerce, and SEO.
WHAT MAKE MOTOCMS BECOME THE BEST
According to a survey in 2017, MotoCMS is one of the fastest content management systems with a well-optimized loading speed of the website. CMS has the load time is 1.8 sec. Very fast!
Move various content blocks on the ready-made layout to complete a professional website with the admin panel from MotoCMS.
Add SEO Tags to each page of your template and alt texts for images. Hide pages from indexation, use 301 redirects, etc.

Retail and ship any goods online, customize product showcase, get paid via most popular gateways, track real-time stats, and more.
Delight the visitors of your website with its design via any possible device: smartphone, tablet, and desktop.
Promote your web project with social links and social buttons, connected to your profiles in top social media networks.
Publish awesome content and change your blog design with a fully-featured functionality, implemented into our website builder.
HOW MOTOCMS CAN HELP YOU
A client with non-developers skills
David, a photographer who wants to make a new website, doesn't have a big budget and can't afford to hire a developer. With MotoCMS's templates, he doesn't need to have development skills to create a website. He can drag & drop widgets from the bar and resize them as he needs. After having a talk with MotoCMS pre-sales and support team, you can try the free demo template and then purchase a template with the changes, install it on the server and continue working. After 7 days of working in the template, your website will be complete.
Feature: WYSIWYG editor, drag & drop, must-have widgets.
Saving time and money
Tyler is working as a web developer for a long time and has completed a lot of different projects. Once, he received an offer to make a new website that users can learn how to handle in a very short time. Tyler worked with MotoCMS for a long time, as he received a lot of good reviews after working with these templates. So, once the website was done, the clients were satisfied and approved it. Tyler then had a happy client and more money, as MotoCMS allowed him to make big discounts.
Feature: Loyalty Program (discounts).
REVIEWS FROM CUSTOMERS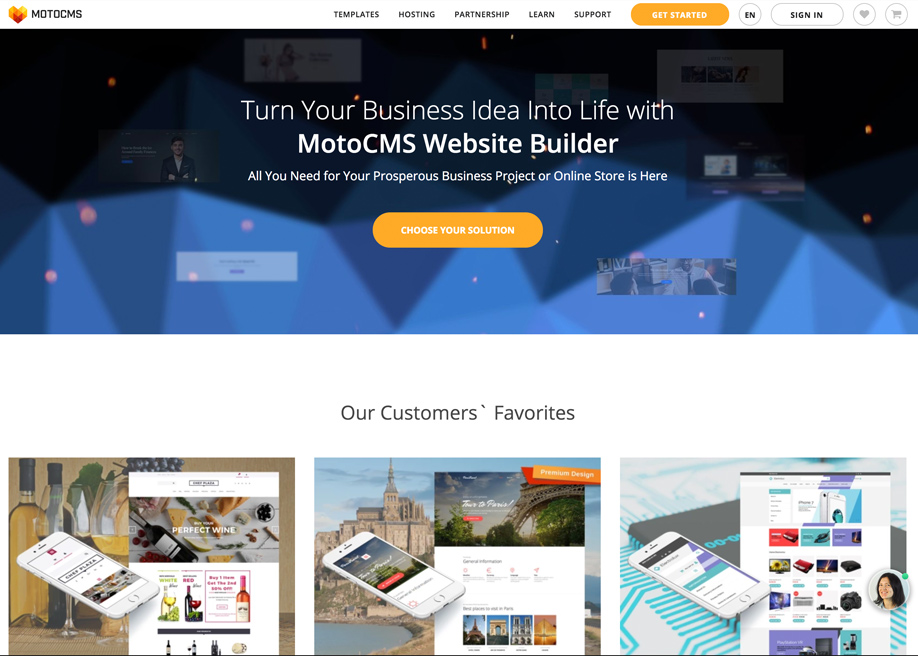 " Absolutely the best service from an online company I have ever experienced, outstanding!!! John, Alton, Ron, and everyone at Moto deserve ten stars, not merely five." _ Frances
"Thank you very much Tommy Stone for your great and professional service!" _ Mike Kaufmann
READ MORE