About Mylab Box
Mylab Box is known as the online STD testing service that brings the lab home. It's where you can find a first-of-its-kind service that delivers STD screening solutions to your doorstep allowing you to keep private things private.
They've worked with some of the best experts in the U.S to design a program that allows you to screen anytime and anywhere. Each test can be completed in less than 5 minutes (including reading the instructions) without driving, schedule appointments or wait in line. They will remind you when it's time to test again so you will never have to worry or keep track.
Who are they?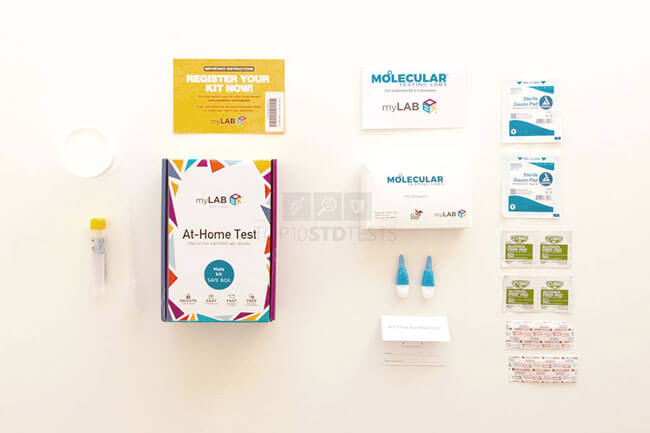 Mylab Box was conceived by California entrepreneurs who saw the opportunity to fix a major gap between the way approaching the sexual health and medical standards. With 1/3 of Americans living with a STI today, it is clear conventional testing methods simply do not work. Riddled by inconvenience and discomfort lab appointments and tests lead to many (possibly even you!) skipping their annual exam and relying on trust with new partners. Having no symptoms, however, does not mean one is in the clear as over 80% of infections may have no visible signs. The only way to know for sure is to test.
Why choose Mylab Box?
Order online
No need to go to a labor book appointments. Their packages have been carefully designed with your lifestyle in mind so you can leave the difficult decisions to them.
Test at home
Collect and mail your sample in under 5 minutes from the comfort of home. Test anytime and anywhere, it's that easy! Enjoy free shipping from and to their lab.
Get results
They work with the best labs to ensure the accuracy of your results will be the same as those done in a clinic. Share them with partners from your dashboard.
Free consultations
If you get a positive test, enjoy peace of mind with free telemedicine physician consultations and same day prescriptions without setting a foot outside.
Safe & secure
They work only with the best health providers, medical experts, and lab facilities in the U.S. Their HIPAA data storage system also means your records are safe and secure so you can access them anytime you need to.
How At Home SDT Testing works
Select and order your test online. All of their home tests ship free in discreet packaging.
It only takes five minutes to complete your test but the contents will vary depending on what you're testing for. All tests are performed by collecting a urine sample (men), a vaginal swab (women) or a blood sample (via finger prick for select tests).
Every package will include:
The urine, vaginal swab and/or blood sample collection kit
Simple instructions
A postage paid return envelope to send your samples in for testing
When you send your samples in, lab technicians will test them in the same type of facilities that medical clinics use. That means you will have the same accuracy as a clinic but at half the cost and no inconvenience. Results are available 2-8 days after you've sent the samples, are stored in a secure HIPAA data storage system and accessible only with your username and password.
You will receive an email when your results are ready and can review them online, download a PDF and share them at your discretion. You can also share a link to your online results with a family physician when seeking treatment or to clear the air with a negative result. All myLAB Box test results are lab-certified and can be given to your doctor for treatment. myLAB Box will also connect you with highly trained and experienced STD counselors who can provide you with accurate information on available treatments for your infection and how to go about getting that treatment.
Mylab Box reviews from customers
"Bought Herpes at home test, great customer support, quick delivery, quick results. Didn't have to leave my house. Super easy." – Alex Hamilton.
"The first time I sent my samples to them it took OVER 1 month for them to receive/test. They sent me a replacement box which I just sent samples back from and upon checking the tracking (it was supposed to be delivered yesterday) it is once again delayed.
The company immediately reached out to me to provide a prompt resolution. I am very impressed by how they stand behind their products and make sure their customers are satisfied." – Naurel Illergin.
"I think everyone should consider this test especially if you are nervous about talking to your doctor or going to a clinic. It's pretty discrete and total time from Order and to results were like a week and a half. Instructions are clear and sample collection is easy. Will definitely use again for periodic testing." – Kerry M.
See more