Bosch 300 Series Dishwasher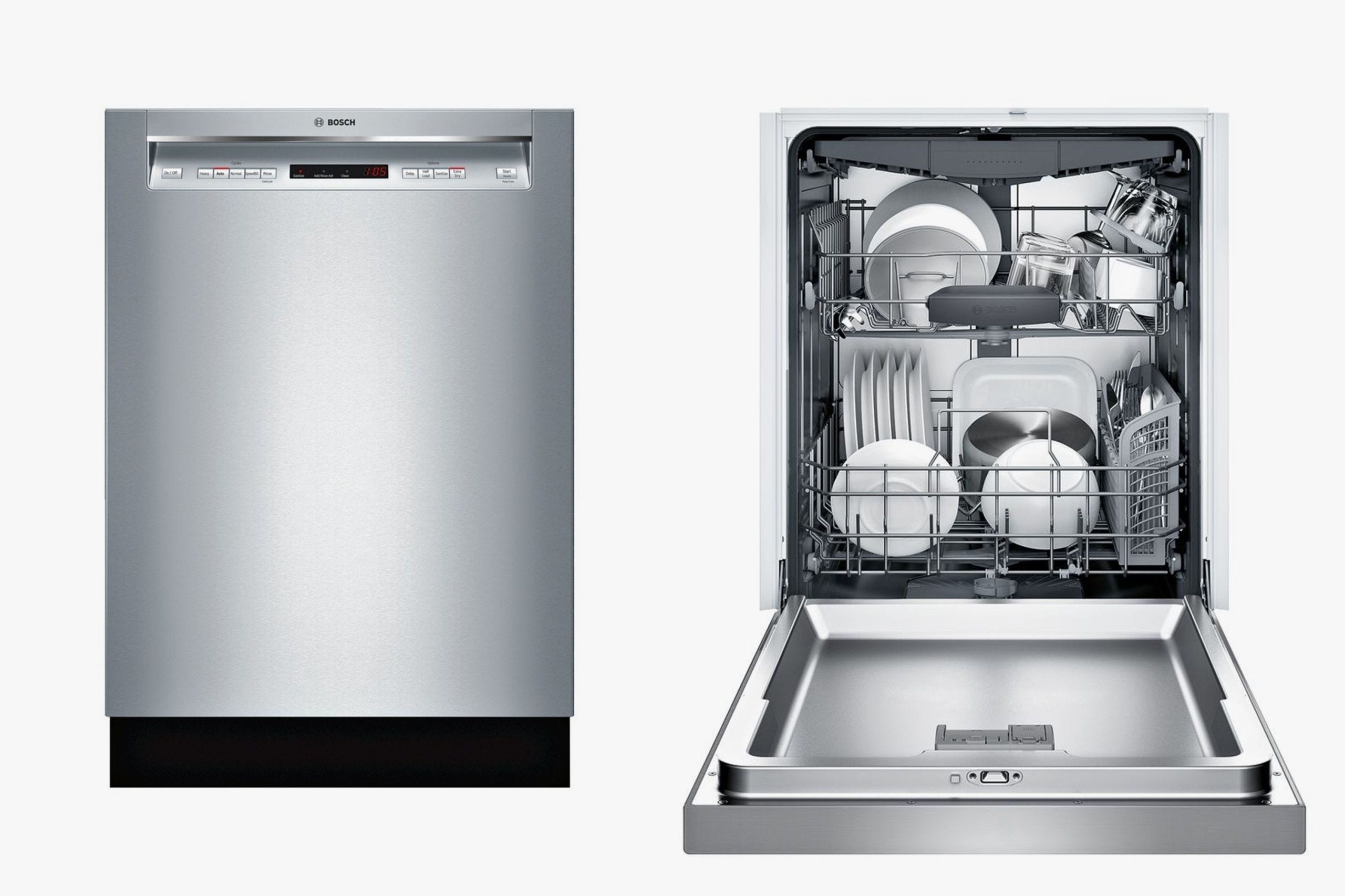 homedepot.com
$769.00
If you're looking for the most bang for your buck, the Bosch 300 Series won't disappoint. Based on our extensive evaluation, Bosch is one of the most reliable brands of dishwashers. Yale Appliance found that only 10.4% of Bosch dishwashers sold throughout 2017 and 2018 needed service in the first year of ownership.
The Bosch is well-designed and it'll look great in any kitchen. If you don't want curious kids fussing with its outer control panel, you also have the choice of pocket-handle or bar-handle variants. All 300 Series models are spacious, quiet, and energy-efficient, and offer plenty of cycles. If you have a big family or entertain often, you'll appreciate its convenient V-shaped third rack, which offers up to 30% more capacity than other dishwashers. Bosch has more expensive models — the 500 Series and 800 Series — which add a more flexible third rack setup, and lower sound ratings, but we don't think they're worth splurging for.
Read more: Best electric kettles
Maytag MDB4949SHZ Dishwasher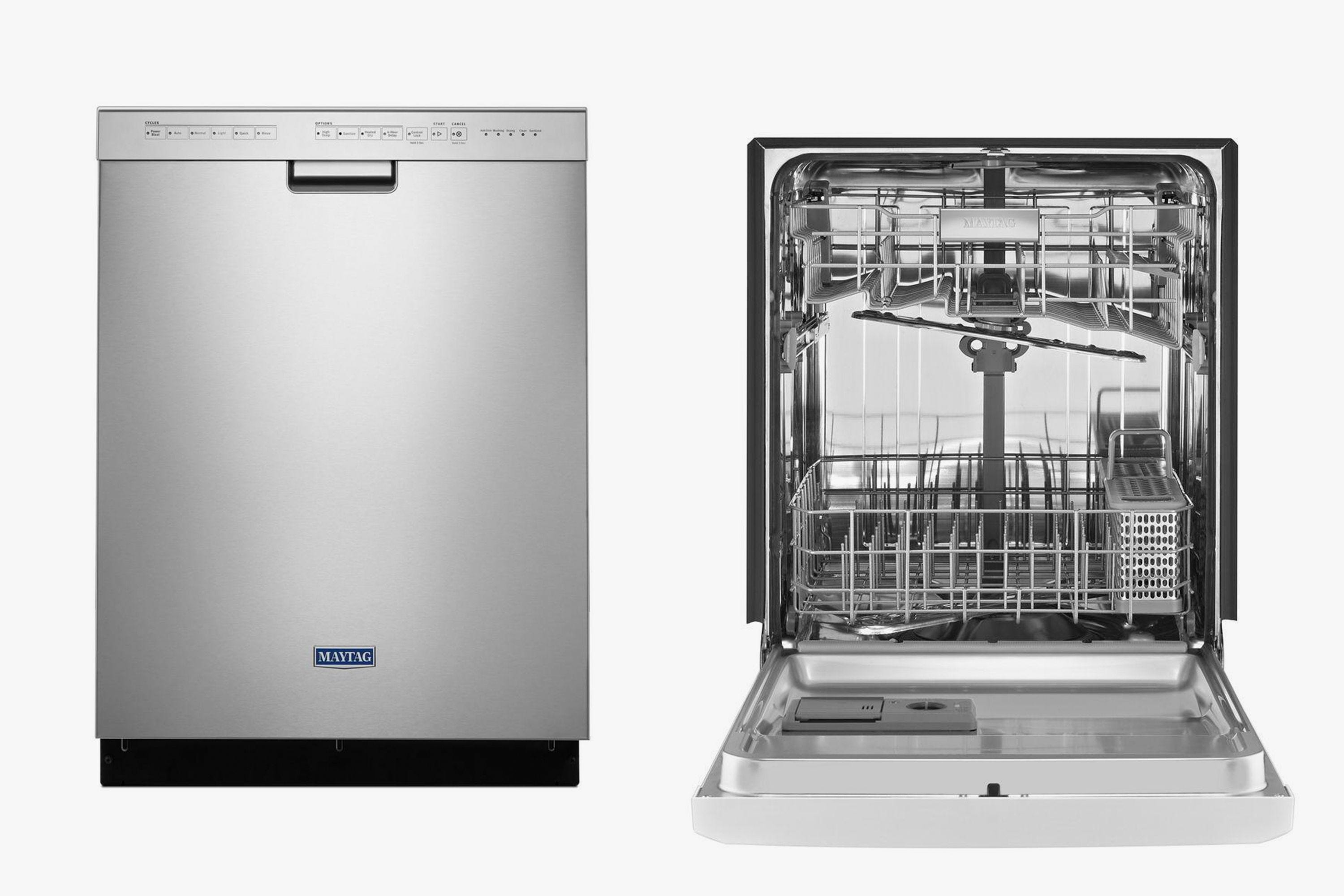 Homedepot.com
$548.00
This dishwasher from Maytag is going to be your best bet if you're willing to put up with a noticeably louder 50-decibel cycle, sacrifice a third rack, and forfeit some advanced features for a much more affordable price.
However, if you're willing to live with minor shortcomings, the MDB4949SHZ is an effective dishwasher that's easy to operate and costs only around $500. It features both a stainless steel interior and exterior, a hard-food disposer, and quick heated drying, and it washes up to 12 place settings. If you can afford to spend about a hundred more dollars, the GE GDT655SSJSS is another excellent budget dishwasher that's slightly quieter and has room for four more place settings. It was named Digital Trends' best overall dishwasher but lacks the soil sensor that's found in the Maytag, so it won't know when to extend or end the cycle unless the time is up.
Miele Lumen EcoFlex Dishwasher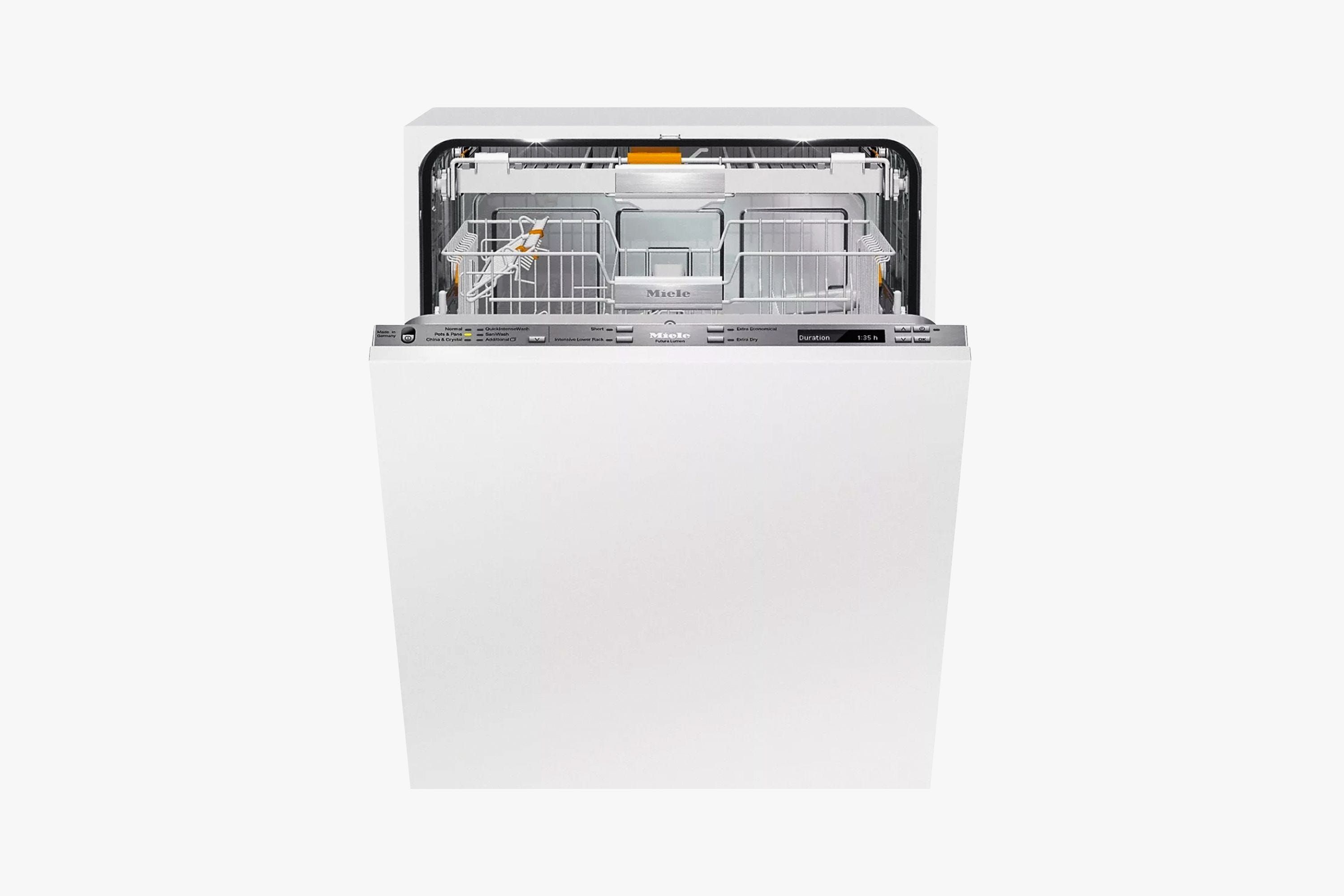 ajmadison.com
$2,299.00
Miele dishwashers are the longest-lasting dishwashers you can buy. The company says its products will last for 20 years of average use. Yale Appliance datastrengthens this claim, in finding that only 5.9% of Miele dishwashers sold throughout 2017 and 2018 needed service in the first year of ownership, making it one of the most reliable brands in their analysis.
You won't only be impressed by the dishwasher's performance, but its look and features as well. It has a logo-free stainless steel front, a hidden top-mounted control panel, and interior lights that shine right when you open the door — which you activate by knocking on it twice. All racks are adjustable, so you can fit practically anything inside. For even more room, the dishwasher is equipped with a third rack that's ideal for stowing utensils and silverware.
Samsung StormWash Dishwasher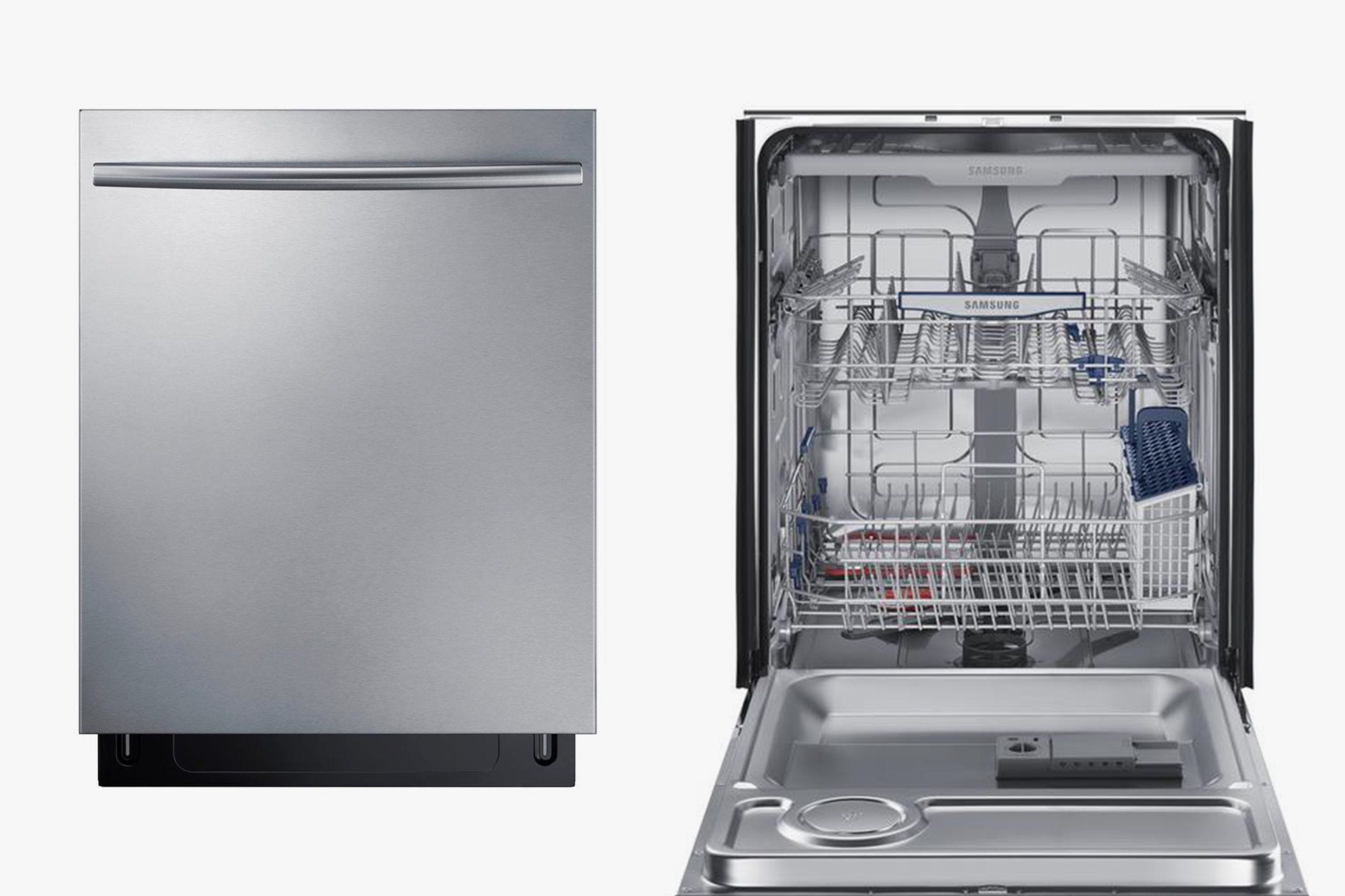 homedepot.com
$660.00
Dishwashers conserve energy and water, and they shrink your utility bill in the process, all while saving you the time and stress of washing dishes by hand. Most dishwashers are quite efficient these days and have an Energy Star badge. To qualify for Energy Star certification, they must use 3.5 gallons of water per load or less and use under 270 kilowatt-hours of electricity annually. The most energy-efficient dishwashers of the bunch use 225 kilowatt hours of electricity annually and 2.4 gallons of water per cycle. However, these models are some of the most expensive dishwashers you can buy, and their efficiency savings aren't really worth it, especially considering how energy-efficient cheaper models already are.
If you're extremely green and care about purchasing a more energy-efficient dishwasher than the norm, we recommend the Samsung StormWash, because it uses 239 kilowatt-hours of electricity annually and just 3.2 gallons of water per cycle. Reviewed.com tested the dishwasher and praised it for its strong balance between price, impressive looks, unique features, and quietness.
SPT SD-9241 Portable Dishwasher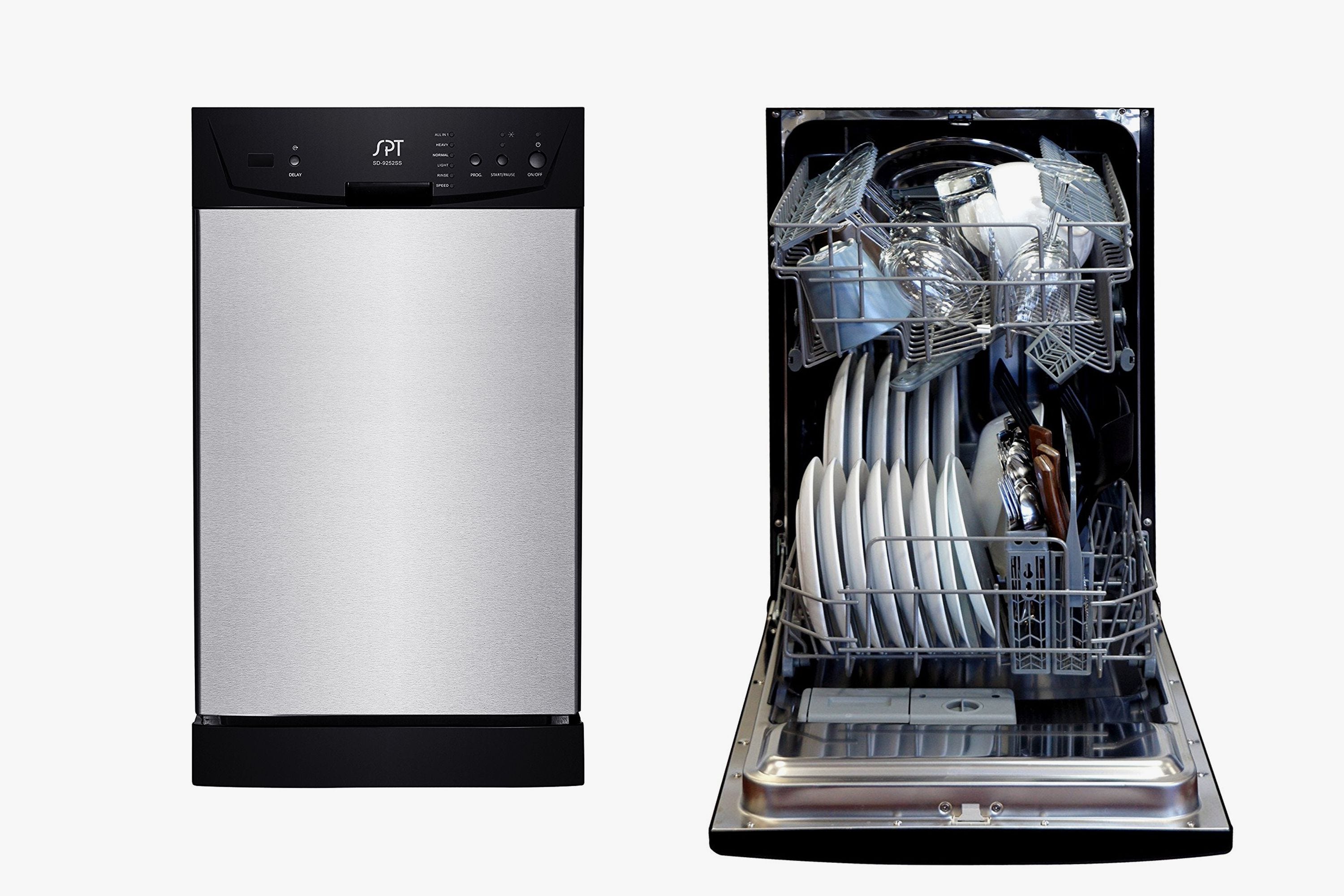 amazon.com
$499.98
If you're renting your place and your landlord won't pay to have a dishwasher installed, or you don't have enough room for a full-sized dishwasher (or any way to pipe water to one), you should get a portable dishwasher. We recommend this 18-inch one from SPT. It may not be the quietest — it reaches levels up to 55 decibels — but it's energy-efficient, has a stainless steel interior, and cleans thoroughly. We also think it's the best-looking portable dishwasher you can buy. You have a choice of a stainless steel or white exterior, and because the dishwasher is on wheels, you can easily roll it around your kitchen. Our only complaints are that its normal cycle takes an 1 hour and 50 minutes to complete, and it doesn't dry your dishes.
There are a handful of 24-inch portable dishwashers available, but they typically feature plastic tubs, are loud, and don't clean as well as this one. Not to mention that they're just as expensive as standard dishwashers. If you're looking for a portable dishwasher, you can't go wrong with this one from SPT. It has six cycles, an easy-to-use interface, and you can get it delivered right to your door from Amazon. Unfortunately, it sells out frequently. If you're in a pinch and need a portable dishwasher stat, but the SPT is out of stock, the Danby DDW1801MWP portable dishwasher is another great option.
See more products in here