Currys was founded in 1937 and has been known as a British electrical retailer operating in the United Kingdom and Republic of Ireland, owned by Dixons Carphone. It specializes in providing home electronics and household appliances, with 295 megastores and 73 high street shops.
Over the years, Currys get a considerable number of loyal customers thanks to their high quality service as well as a variety of products they offer.
Electronic products provided by Currys including:
Computing (proudly the largest computing range on the UK including desktop PCs, laptops, netbooks & tablet PCs)
Office & computing accessories (printers, scanners, data storage, networking, software, components & upgrades)
Household appliances (laundry, refrigeration, small kitchen appliances, floorcare & more)
Home entertainment (TV, DVD & Blu-ray)
Audio (from surround sound to iPods, MP3 players, radios, docking & headphones)
Photography (cameras, camcorders & digital photo frames)
Gaming (Wii, Xbox 360, PlayStation 3, Nintendo 3DS and PC games & hardware)
Phones, broadband & GPS
Currys Black Friday 2019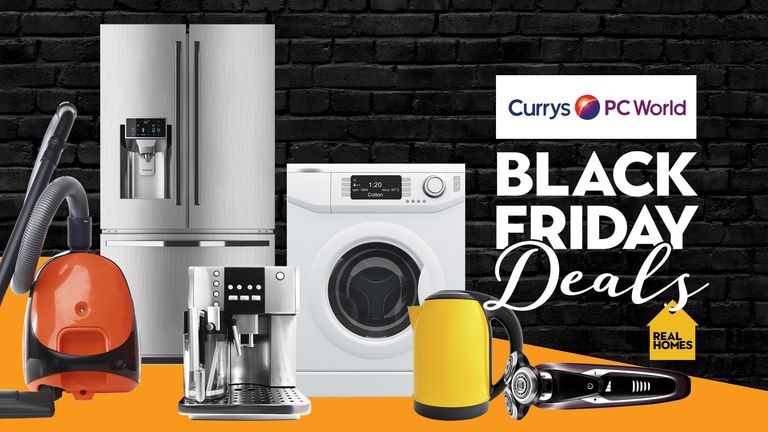 Currys' Black Friday deals have started already. They have opened their promotional program for some days with many great discounts, especially on laptops, 4K TVs and iPads.
As our follow, there are lots of Currys discounts for Black Friday. If you want a washing machine, Dyson vacuum cleaner or even a toaster, there are already significant discounts on the Currys website.
Currys is also working to offer more deals for both Black Friday and Cyber Monday on certain products. A lot of 4K TVs are being distributed with the Google Nest Mini for just £10, if you're using smart speakers.
Top Currys Black Friday Deals 2019
Xbox One X Gears of War Limited Edition bundle | Comes with Gears 5, Tekken 7, Project Cars 2: £299 (old price: £449) at Currys.
Fitbit Inspire HR Fitness and Google Nest Mini Bundle: £75 (old price:£139)
iPad 10.2-inch (2019) WiFi 32GB: £299 (old price: £349) at Currys
PS4 Pro | Call of Duty: Modern Warfare: £299 (old price: £329) at Currys
Samsung UE43RU7020 4K TV: £329 (old price: £379) at Currys
Dell Inspiron 15 3000, AMD Ryzen 5, 8GB RAM: £399 (old price: £599) at Currys
Dyson V7 Cordless Vacuum Cleaner: £199 (old price: £299) at Currys
Google Nest Hub: £59 (old price: £119) at Currys
Samsung UE43RU7470 4K LED TV: £399 (old price: £499) at Currys
Hopefully, above information may useful for you on the upcoming Black Friday 2019.
Don't forget to draw a shopping plan with Currys to get the biggest possible saving.
Read More